Cash Collection Services,
Newcastle AU
---
Looking For Cash Collection Services in Newcastle?
---
Cash Collection is a security service that collects and transports any amount of cash for businesses. Our SecureCash couriers and drivers are well-trained professionals in the field of cash security, management, and transport. Contact us today to find out how we can safely move your money around Newcastle.
Our Cash Collection Services in Newcastle
Businesses in Newcastle want only the best protection for their clients, employees, and their assets. To maintain a secure financial environment, they partner with cash collection specialists to keep their money right where it should be—in the bank.

SecureCash provides professional cash collection services anywhere in Newcastle. From Kotara to the Central Coast, from Gosford to Nelson Bay, from Hunter Valley and back to the CBD, we have got you covered.

Our cash collection Newscastle office has over twenty years of experience. We have helped many organizations and have kept all their business takings secure. Aside from cash collection services, we also provide cash delivery and cash counting services to our clients in Newcastle.

If you are not sure about what type of service to avail, we can suggest different strategies that are effective and would best fit your line of business. We can make assessments for each particular situation.

In cases where security measures are needed, we will take the time to evaluate the area affected and come up with a plan of action. This would sometimes be necessary for a smoother cash collection to or from your business location.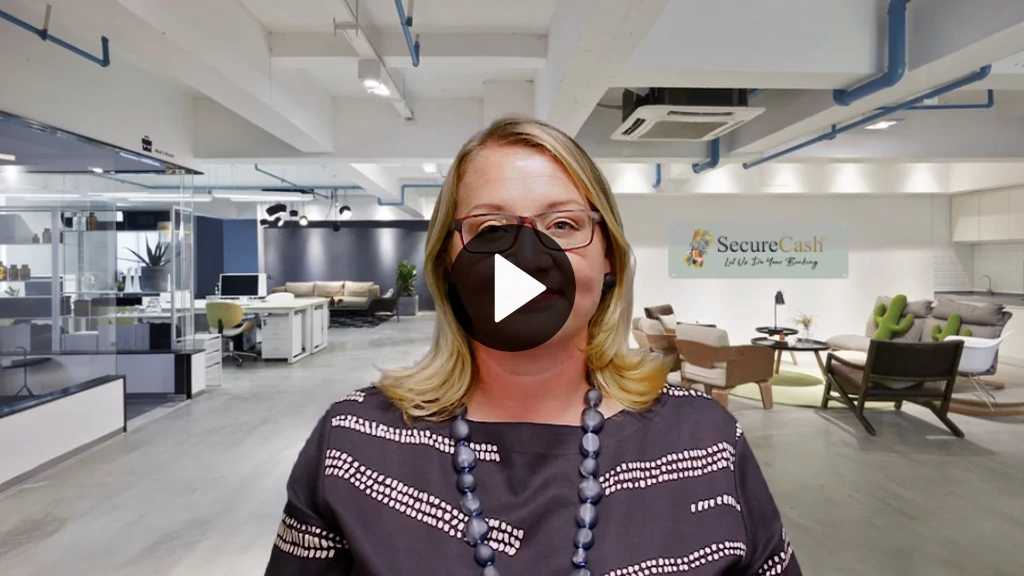 A couple words from our General Manager Bethaney Bacchus
Why Are We the Best Newcastle Cash Collection Provider in Australia?
---
As Australia's # 1 cash collection service provider, we love to go the extra mile to assist our clients in any specific situation. For example, there may be instances where clients need to divide the funds into separate accounts. This should be the least of their worries, we'd be happy to do that for you and give you the proof of transaction afterwards.

In a corporate environment where everyone is in a hurry, there is always a need for a quick and timely response. Often times, the CEO or manager won't have the time to visit the bank, so they have to delegate the banking task to an employee. This can greatly put your company in danger. It is always better to employ a "runner" who are experts in this type of job.

Our cash collection team provides professional bank runs in Newcastle and throughout its neighbouring suburbs. We specialise in covert cash transport with the most suitable security measures set in place. To attain the best service, we work with each individual client to understand their specifications on how they want the job done.

SecureCash has worked with startup companies, medium-sized organizations, and major corporate environments. No matter the size of your company in Newcastle, we deliver the same professional and quality cash collection service.


Start Protecting Your Assets Today
Give us a call at 1300 SECURE so we can discuss the details on how we can exactly help your business in Newcastle.
Secure
Cash
Don't take the risk.
Let us do your banking!
SecureCash provides cash collection services in Newcastle — 24 hours a day, seven days a week. We have branches in Adelaide AU, Sydney AU, Melbourne AU, Hobart AU, Brisbane AU, Perth AU, Wollongong AU, Gold Coast AU, Cairns AU, Central Coast AU, Canberra AU, Toowoomba AU, Warrawong AU, Bendigo AU, and Kadina AU, plus a network of licensed contractors to cover the rest of the country. Contact us today for more information about how we can help your business in Australia.

At SecureCash, in any unexpected instance where we miss your bank, your money is secured at an undisclosed location until it's delivered to the bank the next business day.

Your daily takings are our top priority, it is important to us that our services are delivered in a professional and timely manner, no matter what your business is, no matter where you are located.