Cash Security Officer Services
---
Looking For Cash Security Officer Services?
---
Security officers are essential in keeping banking collections safe. SecureCash has plain clothed security officers who will collect your daily takings and discreetly transport it to the bank. For over 25 years, we have carried out careful and efficient banking collections for companies across Australia. Get a quote today!
Our Cash Security Officers Service
Businesses deal with cash all the time. Regardless of what your product is, cash will always be one means of payment. But what happens when there's too much of it inside your store? How do you keep your business takings secure?
As a business owner, it is essential to improvise on cash management. You will need a stable and economical way of getting your funds to the bank, and it is always important to choose the best ones for the job.
SecureCash is a cash-in-transit company that is composed of experienced and well-trained cash security officers who can deliver your funds to the bank on your behalf. By letting us handle all your cash transports, it will...
Relieve you from personally taking your money to the bank
Prevent crimes and other high street attacks on you or your staff
Eliminate banking trips, thus, boosting company productivity
Increase a sense of security in the workplace
Give you peace of mind and focus on your work
Help create a more balanced cash flow
Affordable Cash In Transit Services
SecureCash renders 3 core cash security services:
Cash Collection is the process of picking up your takings and safely transporting it to the bank.
Cash Delivery is when we pick up your funds from your bank and deliver it to your business location to re-supply your tills and floats.
Cash Counting is the systematic process of counting and sorting out the money you've collected. Once the total amount is verified, we can deliver or wire the money to your bank account.
To request either of these services, simply get a quote or call 1300 SECURE. Once we have confirmed your booking, a team will be organized to visit your location and secure your funds.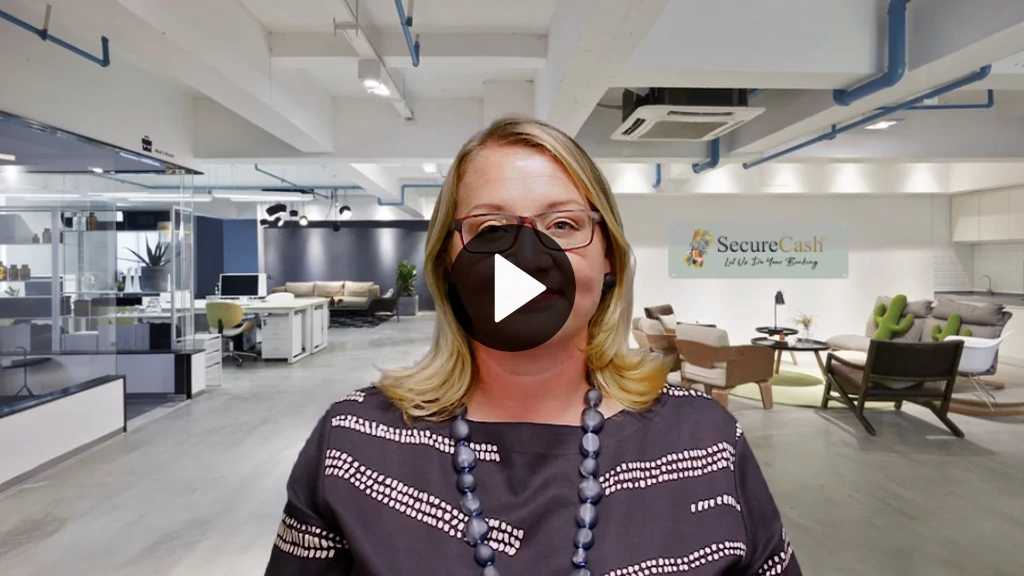 A couple words from our General Manager Bethaney Bacchus
How Can SecureCash Help Your Business?
---
Plain Clothed Cash Security Officers
SecureCash is a covert cash security provider. This means that during cash transports, we deploy security officers who wear plain unmarked clothes instead of security uniforms. A low-key operation allows us to move at ease while ensuring the safety of your money.
To stay under the radar, our cash security officers drive unarmoured vehicles. This helps us blend in with the crowd and avert any potential risks to your business.
Reliable Services for Any Business
All SecureCash services are covered by a nationwide CIT insurance policy. This way, we can guarantee that your money is insured from the moment of collection until it is delivered to your bank.
We understand that every organisation is different. That is why we prefer to work closely with you to understand your needs better. Whether you own a small business or a major organisation, we offer the same level of trusted service that you can rely on for a long time.
Flexible Security Solutions
SecureCash security officers serve round-the-clock, including weekends and special holidays. We do not impose binding contracts, so you may change the frequency of collections and deliveries when you need to.
We want to keep our services flexible so that even small and start-up businesses can enjoy our services, even on a strict budget. If it seems that you are not satisfied with our services, feel free to talk to us anytime. We'll find solutions that are feasible with your company's requirements.
CALL US TODAY
If you need reliable cash security officers, call us at 1300 732 873. Our operators are standing by and ready to discuss how we can help secure your business in Australia.
Secure
Cash
Don't take the risk.
Let us do your banking!
SecureCash is available 24 hours a day, serving cash security officer services — anywhere in Australia. We provide other services such as Cash In Transit services, Cash Collection services, Cash Pickup services, Cash Logistic services, Cash Delivery services, and Cash Courier services, plus a network of licensed contractors to cover the rest of the country. Contact us today for more information about how we can help your business in Australia.

SecureCash guarantees the safest handling of your business takings. In case we miss your bank's cut-off time, your money will be kept in a protected and undisclosed location until it's delivered to the bank the next business day.

Your daily takings' safety is our top priority. It is important to us that our services are delivered in a professional and timely manner, no matter what your business is—no matter where you are located.