Cash Collection Services,
Melbourne AU
---
Looking For Cash Collection Services in Melbourne?
---
Cash collection is a cost-effective service that assists your business in moving any amount of cash, making sure your money reaches its destination swiftly, safely, and on time. Find out how SecureCash's world-class services can help you save the time and hassle of going to and from the bank in Melbourne. Request for a quote now!
Our Cash Collection Services in Melbourne
Running a business requires dedication. As a company owner, you have to stay ahead of everything to maintain the quality of your business. You ought to have the best employees, smart IT and marketing personnel, honest financial staff, and a reliable team who will take care of your business revenues.
This means that you will need a steady cash collection services provider who can manage, secure, and transport your business takings anytime you want.
SecureCash provides cash collection services in Melbourne. We offer cash security and logistics solutions for all type of business. We specialize in collecting, transporting, and depositing your funds (cash, coins, and cheques) to the bank on your behalf.
We have a simplified Melbourne cash collection service process if you need one. Start by getting a quote and we'll get back to you within an hour. We can schedule your pick up after that and have a courier ready for you. You may also call 1300 SECURE if you need to reach us directly.
How We Secure Your Banking
Once your request is confirmed, the cash collection team will arrive at your location on the agreed date to secure your money. The funds will be placed in your bank-provided satchels, making sure that it is properly sealed.
Each satchel has a barcode, which will be scanned using our latest eDocket Software to upload all the needed information for your bank deposit. Once everything is set, the couriers will leave your building, drive to the bank, and process your deposit. You will receive transport notifications through your email.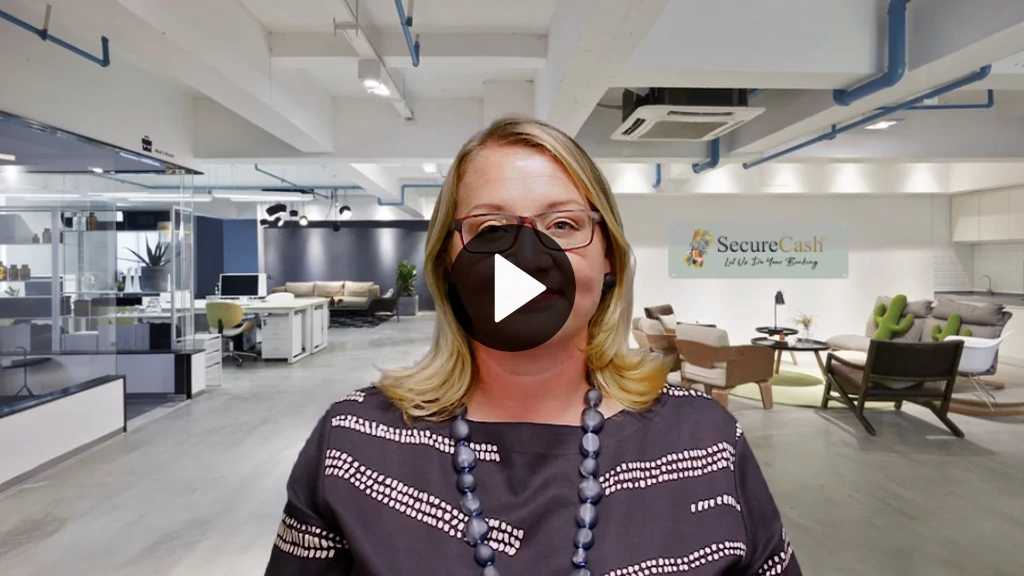 A couple words from our General Manager Bethaney Bacchus
Why Should You Hire a Melbourne Cash Collection Provider for Your Business?
---
Other Cash Security Services in Melbourne
Aside from cash collection, our Melbourne clients can also enjoy other services like Cash Delivery and Cash Counting.
Cash Delivery is recommended if you have private affairs or celebrations like birthday parties, anniversaries, festivals, conventions, and fundraisers. We can collect the cash from your bank and bring the money to your venue, wherever you are in Melbourne.
Cash Counting is ideal for those who operate or deal with volumes of coins. This includes laundromats, ticket booths, arcade centres, parking meters, charity collections, and vending machines. We can pick up the money and take it to our depot for safe counting. Once we have confirmed the total amount, we can either bring the money to you or wire it directly to your bank account, your call.
We can schedule the cash collection to suit you: daily, once a week, twice a week, fortnightly, or once a month, it's at your discretion.
Covert Cash-in-transit Solutions
SecureCash is a covert cash collection service provider. This means that all our operations in Melbourne are done in a low-key or discreet manner.
Our couriers wear plain clothes and drive unarmoured vehicles. We choose to operate this way because it's easier to blend in the crowd and go about our tasks without any hassle. Also, we do not want to cause any disturbance in your work and disrupt your employee's focus.
SecureCash takes charge of all the security measures from the retrieval up to the deposit of your funds. Our services are covered by a nationwide CIT insurance policy, which guarantees that your banking is secured while in transit.
Respect and Integrity
Our cash collection services in Melbourne is known for its friendly approach towards clients. We always treat our employees and customers with respect and integrity.
We aim to perform our duties flawlessly and satisfy our client's need when it comes to cash security. That's why, many of our returning customers find that our prices are very affordable compared to our competitors.
Our team in Melbourne always strive to make your cash collection experience a good one.
CALL US TODAY
For your cash collection needs, call us at 1300 732 873. Our friendly staff in Melbourne is ready to discuss how we can help secure your business. Talk to us today!
Secure
Cash
Don't take the risk.
Let us do your banking!
SecureCash provides cash collection services in Melbourne — 24 hours a day, seven days a week. We have branches in Adelaide AU, Sydney AU, Hobart AU, Brisbane AU, Perth AU, Newcastle AU, Wollongong AU, Gold Coast AU, Cairns AU, Central Coast AU, Canberra AU, Toowoomba AU, Warrawong AU, Bendigo AU, Kadina AU, and Melbourne Banking Courier, plus a network of licensed contractors to cover the rest of the country. Contact us today for more information about how we can help your business in Australia.

SecureCash guarantees the safest handling of your business takings. In case we miss your bank's cut-off time, your money will be kept in a protected and undisclosed location until it's delivered to the bank the next business day.

Your daily takings' safety is our top priority. It is important to us that our services are delivered in a professional and timely manner, no matter what your business is—no matter where you are located.