Cash Collection Services,
Adelaide AU
---
Looking For Cash Collection Services in Adelaide?
---
Cash collection is the process of picking up any amount of money from your business location and transporting it to the bank in a safe, discreet, and timely manner. Get a quote now to find out how SecureCash's cash collection services in Adelaide can help you and your business save time, effort and money.
Our Cash Collection Services in Adelaide
Do you need help in managing your business takings in Adelaide? Do you need someone who can take care of your banking?

SecureCash provides professional cash collection services to business industries located throughout Adelaide. Whether you run a small retail shop or a major company, we provide the same quality service that is dependable, flexible, and affordable.

Our cash collection in Adelaide provides a convenient collection of your daily takings and safe transport to the bank. We can help you move huge amounts of cash, making sure your money reaches its destination safely and in a timely manner.

To avail our services, simply get a quote online or call 1300 SECURE. Our representatives are available 24 hours a day, seven days a week so feel free to talk to us anytime.

Once we have confirmed your booking, we will send a cash collection team to pick up your funds. Before taking it to the bank, your money will be secured inside your bank's tamper-evident satchel. The barcodes of the satchel will be scanned and registered using our eDocket System, an advanced software application that's unique only to SecureCash. Once all the information is gathered, your funds will be taken to the bank for deposit. Real-time updates and notifications will be sent to you via email.
Our other major services include…
Cash Delivery Service
A process whereby businesses can request for money to be delivered to their location. They have the option to ask our delivery team to sort out the money according to their needed denominations. We can collect the money from your bank, arrange it according to your specifications, and bring it to you.
Cash Counting Service
A convenient solution if you need someone to sort out the money from your coin-operated businesses (e.g. vending machines, arcade cabinets, parking meters, charity boxes, and similar sources). Our depots are equipped with advanced cash sorting and processing machines that help us provide accurate amounts and data.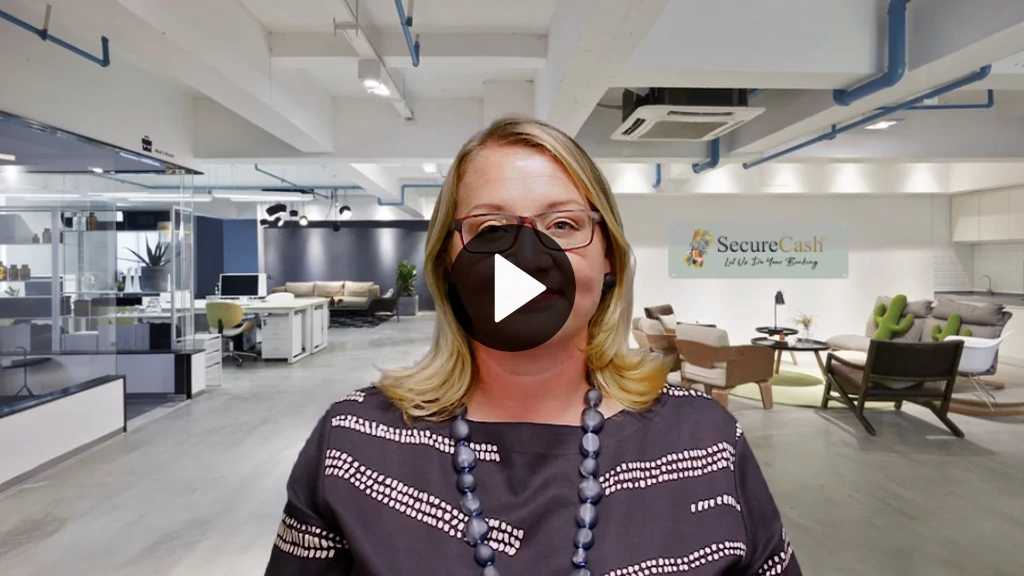 A couple words from our General Manager Bethaney Bacchus
Why Should You Hire a Cash Collection Adelaide Provider for Your Business?
---
What makes our services unique is our ability to perform all cash-in-transit operations in a covert and discreet manner. We deploy plainclothed officers who drive unmarked vehicles that are equipped with the most advanced security features that are necessary for our operations. This is done to avoid getting unwanted attention from the public or from your customers and employees. This protects you and your business from any form of property crimes like robbery and theft.

We do our best to provide efficient and flexible solutions for our clients. When opting for our services, we will never ask you to sign any binding contract. This allows you to freely choose your cash collection Adelaide methods: ad hoc pickups or regular collection. If you are unhappy with our service, you may call us to cancel or you may talk to us so we could work out other options for you. We'll do our best to address your concerns and provide reasonable solutions for your convenience.

SecureCash is the largest Adelaide cash collection services provider. We service organisations of any size, regardless of what industry you are in. For years, we have provided companies with a sense of security and an unswerving peace of mind.

SecureCash is government-licensed and accredited by the Australian Security Industry Association Limited. Our management team has over 150 years of combined experience in cash collection Adelaide so we can guarantee you that we provide quality and professional solutions for your business in Adelaide.



CALL US TODAY
We look forward to being an asset to your organisation in the near future. Call us at 1300 SECURE so we can talk about how we can help your business.
Secure
Cash
Don't take the risk.
Let us do your banking!
SecureCash provides cash collection services in Adelaide — 24 hours a day, seven days a week. We have branches in Sydney AU, Melbourne AU, Hobart AU, Brisbane AU, Perth AU, Newcastle AU, Wollongong AU, Gold Coast AU, Cairns AU, Central Coast AU, Canberra AU, Toowoomba AU, Warrawong AU, Bendigo AU, Kadina AU, and Adelaide Banking Courier, plus a network of licensed contractors to cover the rest of the country. Contact us today for more information about how we can help your business in Australia.

SecureCash guarantees the safest handling of your business takings. In case we miss your bank's cut-off time, your money will be kept in a protected and undisclosed location until it's delivered to your bank the next business day.

Your daily takings' safety is our top priority. It is important to us that our services are delivered in a professional and timely manner, no matter what your business is—no matter where you are located.