Cash Collection Services,
Kadina AU
---
Looking For Cash Collection Services in Kadina?
---
Cash collection is a cash management service that provides convenience for businesses. SecureCash has plain clothed couriers to collect your banking wherever your office is located in Kadina. Our team can discreetly transport it to the bank, making sure it is directly deposited into your account. Call us now!
Our Cash Collection in Kadina
We don't like delays when it comes to money. As a consumer, we want money to be just within our reach to pay our needs. And as a business owner, you wouldn't want your money sent elsewhere. You would prefer it transferred to your bank account on time.
If you own a business in Kadina, a cash collection service would help enhance the security and maintain the regularity of your deposits.
SecureCash is the number one cash collection service provider in Kadina. We specialize in providing management, security, and transfer solutions for your business takings. We implement the fastest and most efficient transport of funds to or from your bank.
Our cash collection service is available for any type of businesses in Kadina. We service retail stores, pet shops, hotels, restaurants, private schools and universities, veterinary centres, government facilities, healthcare clinics, financial firms, medical and dental offices.
We also offer cash delivery services for special events like parties, conferences, conventions, fundraisers, and other occasions where large sums of money are needed.
How We Collect and Deposit Your Money
Requesting for cash collection in Kadina can be done by getting a quote or by calling 1300 SECURE. Once we have confirmed your booking, a plain clothed team will be organized to secure the money in your office.
Our couriers will meet up with your assigned personnel and place the money in your bank satchels. The satchel's barcode will be scanned using our eDocket System, the newest innovation unique to SecureCash that allows users to trace the money while in transit. Once all documents are ready, our team will drive to the bank and deposit your funds.
We always make sure to deposit the funds in your bank account on the same day. Your deposit slip will be given to you on your next pickup schedule. Updates and confirmation about the transport process will also be sent via email.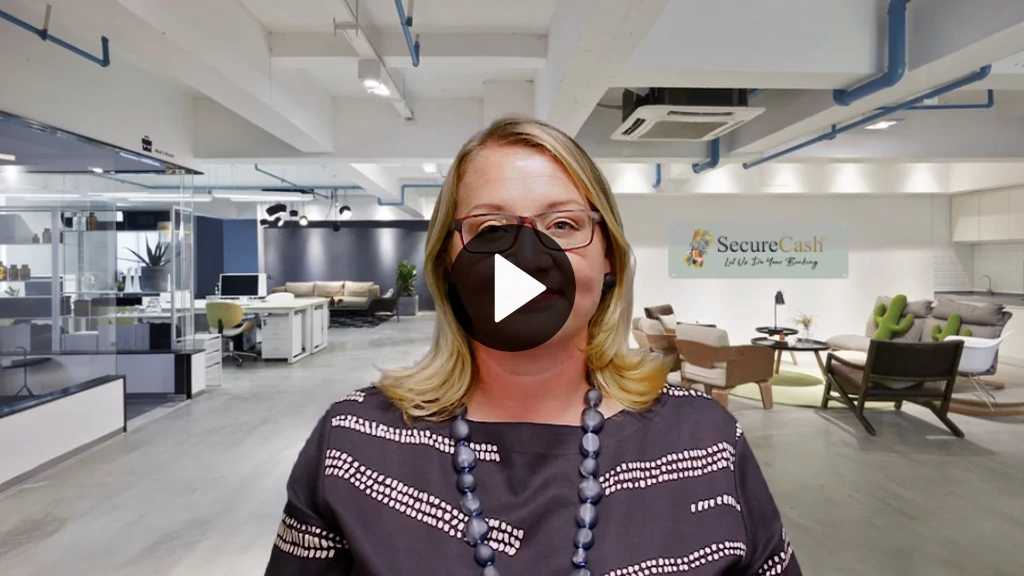 A couple words from our General Manager Bethaney Bacchus
Why Are We the Best Kadina Cash Collection Provider in Australia?
---
Underground Pickup and Transport
SecureCash is known for its covert transport operations. During the cash handling process, our couriers wear plain clothes instead of security uniforms. They drive everyday-vehicles instead of armoured cars.
Uniformed personnel and a big armoured truck would give criminals the impression that money is kept inside your office. They might not be plotting to rob the vehicle, but they can be devising a plan to break into your business.
We want to avoid such risk, that's why we prefer to operate in a low-key manner. This way, we can move around safely without causing disruptions on your work and without attracting attention from your customers.
Flexible Cash Security Solutions
Our services are available anytime. We can schedule a daily, weekly, fortnightly or a monthly pickup, it's your call. You are not obliged to sign any contract so you may avail our services when you need it.
Through the online services on our website, you can reschedule or cancel your booking if you need to. Just let us know ahead of time so we can provide you with better solutions that work well with your requirements.
SecureCash guarantees straightforward and timely cash security solutions. We'll take care of your funds while you focus more on your business.
Call Us Today
For your cash collection needs, call us at 1300 732 873. Our friendly staff are standing by and ready to discuss how we can help secure your business in Kadina.
Secure
Cash
Don't take the risk.
Let us do your banking!
SecureCash provides cash collection services in Kadina — 24 hours a day, seven days a week. We have branches in Adelaide AU, Sydney AU, Melbourne AU, Hobart AU, Brisbane AU, Perth AU, Newcastle AU, Wollongong AU, Gold Coast AU, Cairns AU, Central Coast AU, Canberra AU, Toowoomba AU, Warrawong AU, and Bendigo AU, plus a network of licensed contractors to cover the rest of the country. Contact us today for more information about how we can help your business in Australia.

SecureCash guarantees the safest handling of your business takings. In case we miss your bank's cut-off time, your money will be kept in a protected and undisclosed location until it's delivered to the bank the next business day.

Your daily takings' safety is our top priority. It is important to us that our services are delivered in a professional and timely manner, no matter what your business is—no matter where you are located.