Cash Collection Services,
Bendigo AU
---
Looking For Cash Collection Services in Bendigo?
---
Cash collection is an efficient and cost-effective service that benefits all kinds of businesses. SecureCash has banking couriers in Bendigo to collect any amount of cash from your office location and bring it to the bank in a safe and timely manner.
Call us today to find out how our services can help your company.
Our Cash Collection in Bendigo
Cash is the number one mode of payment. Though digital or online payment is the new trend, people still carry physical cash wherever they go.
If your business is receiving too much cash payments, you know that it is never safe to keep them in the office. You need someone with a viable strategy to handle the banking for you.
SecureCash provides cash collection services in Bendigo. We ensure a convenient and efficient solution in transferring cash, coins, and checks from your location. This allows you to complete your banking needs without having to leave your building.
A Bendigo cash collection service saves you the time and energy of heading to the bank or from delegating the task to an employee. This way, you can have a productive day and keep a peace of mind.
We Pickup and Bank Your Money
You may request for cash collection by getting a quote or by calling 1300 SECURE. Once we have received your request, our couriers will be at your office to secure your banking. The money will be placed in your bank-provided satchels. The satchel's barcode will be scanned using our new eDocket System, the latest innovation unique to SecureCash that allows both client and courier to monitor the transport process.
Once everything is set, our couriers will drive to the bank and deposit your money. We assure you that all collections made will be deposited to your bank on the same day.
Cash Delivery Service
Aside from cash collection, we also provide Cash Delivery for business in Bendigo. Cash Delivery is recommended to companies who have very hectic schedules and cannot withdraw funds anymore. We can pick up the money from your bank and bring it to your store.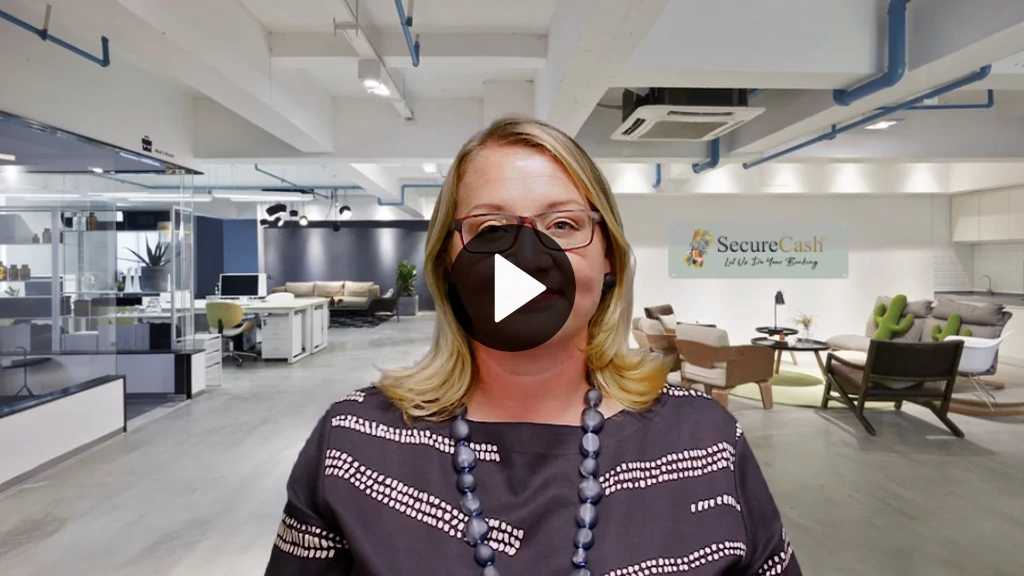 A couple words from our General Manager Bethaney Bacchus
Why Are We the Best Bendigo Cash Collection Provider in Australia?
---
Covert Banking Transport
SecureCash is a covert cash-in-transit service provider. This means that our cash collection team in Bendigo wears plain clothes and drive unmarked vehicles during the transport process.
A low-key cash collection protects our couriers as much as it protects your business. It allows us to enter and exit your office without attracting attention and disrupting your worker's focus.
There's no need to sign any contracts if you need our services. You can are free to opt for a regular pickup (daily, weekly, fortnightly, monthly) or a one-time collection.
Cash Security Solutions
It is undeniable that cash will always be the easiest form of payment. We pay it for minor bills and purchases like coffee, snacks, parking fees, and tips. We use it in self-service shops like laundromats, arcade centres, and ticket outlets. If your business produces loads of it, you need a trusted cash collection team to send it to the bank for you.
Maintain your company's success by outsourcing the banking task to our cash collection services team in Bendigo. This way, you can focus more on the needs of your clients, employees, and other important matters.
Call Us Today
For your cash collection needs, call us at 1300 732 873. Our friendly staff are standing by and ready to discuss how we can help your business in Bendigo.
Secure
Cash
Don't take the risk.
Let us do your banking!
SecureCash provides cash collection services in Bendigo — 24 hours a day, seven days a week. We have branches in Adelaide AU, Sydney AU, Melbourne AU, Hobart AU, Brisbane AU, Perth AU, Newcastle AU, Wollongong AU, Gold Coast AU, Cairns AU, Central Coast AU, Canberra AU, Toowoomba AU, Warrawong AU, and Kadina AU, plus a network of licensed contractors to cover the rest of the country. Contact us today for more information about how we can help your business in Australia.

SecureCash guarantees the safest handling of your business takings. In case we miss your bank's cut-off time, your money will be kept in a protected and undisclosed location until it's delivered to the bank the next business day.

Your daily takings' safety is our top priority. It is important to us that our services are delivered in a professional and timely manner, no matter what your business is—no matter where you are located.