Cash Collection Services,
Central Coast AU
---
Looking For Cash Collection Services on the Central Coast?
---
A cash collection service can assist your business in moving any amount of money. SecureCash can safely pick up your cash, coins, and cheques wherever you are on the Central Coast. Our plain-clothed officers transport it in soft skin covert vehicles, making sure it reaches its destination - in the bank. Call us now!
Our Cash Collection Services on the Central Coast
Despite the existence of debit and credit cards, there are still those who rely on physical cash to pay for products and services. Though cashless payments create faster transactions, retailers still prefer receiving actual money from customers because it feels more present and it's available real-time. It makes them feel like they are really making money on the spot.
However, there are several drawbacks when it comes to taking cash payments: fearing for safety with all the money in their premises, the difficulty of tracking the cash flow, and the dilemma of personally going to the bank to deposit the funds. This is where SecureCash steps in, to provide secure cash collection services and eliminate these risks.
Benefits of a Cash Collection Service
Cash collection is the process of collecting your company's business takings and transporting it to the bank safely. It saves you the effort of going to the bank personally, giving you more time to focus on your work.
If you manage a business in the Central Coast, it would be best to hire a cash collection service provider to help you out. Here are the advantages of hiring them:
On Time Collections - Once we have received your request, a courier will be at your location to pick up your money (cash, coins, and checks). We respect your busy schedule so we always make sure to be there ahead of time, without delays or interruptions. The collection of your takings can be done daily, weekly, fortnight, monthly, or however it would work best for you.


We make sure to process the deposit on the same day it was collected. We can conduct several cash collections within a day. Just let us know the time you need it and we'd be glad to arrange it for you.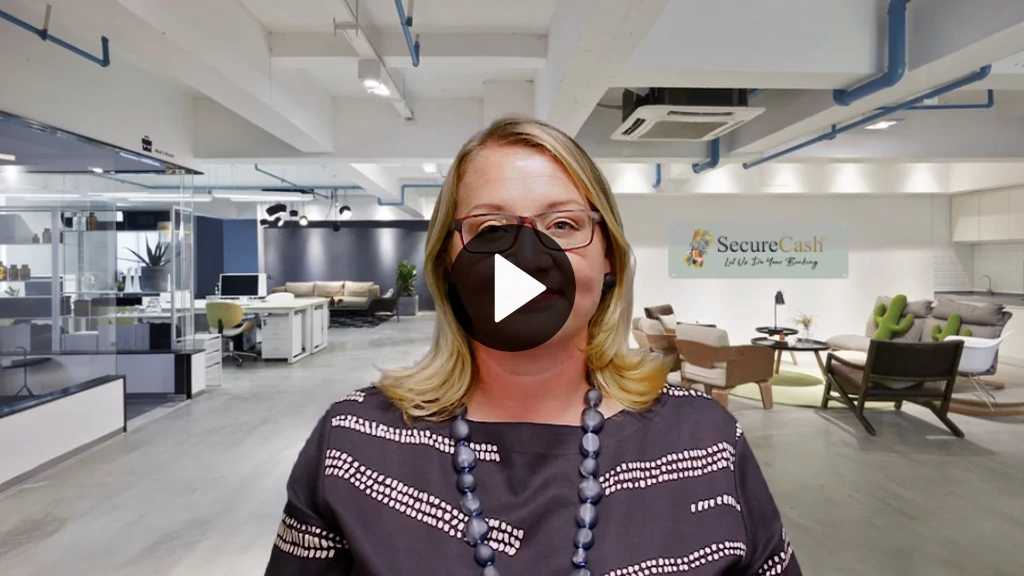 A couple words from our General Manager Bethaney Bacchus
Why Are We the Best Central Coast Cash Collection Provider in Australia?
---
Convenience At Your Fingertips

Make sure your funds are safe with your assigned cash couriers. For your peace of mind, you may verify the courier's identity by logging in to our website's online services.

With the help of our Cash Collection team in the Central Coast, you can forget about taking several trips to the bank and waiting on long queues. We can do the banking for you. SecureCash is available 24 hours a day, so you may reach out to us anytime.

Insured Services

With SecureCash, you don't have to worry about your money during cash transports. Our services are covered by a nationwide cash-in-transit insurance policy, which ensures the safety of your funds from the time it leaves your office until it reaches the bank.


Choosing the best cash collection services is crucial in keeping your business protected from potential risks. SecureCash is willing to work hand in hand with your trusted staff to create a faster, smoother, and much safer way of banking your funds in the Central Coast.
Call Us Today
For your Central Coast cash collection needs, contact 1300 732 873. Our friendly staff are standing by and ready to discuss how we can help secure your business.
Secure
Cash
Don't take the risk.
Let us do your banking!
SecureCash is available 24 hours a day - anywhere in Australia. We provide cash collection services on Central Coast. We have branches in Adelaide AU, Sydney AU, Melbourne AU, Hobart AU, Brisbane AU, Perth AU, Newcastle AU, Wollongong AU, Gold Coast AU, Cairns AU, Toowoomba AU, Canberra AU, Warrawong AU, Bendigo AU, and Kadina AU, and a network of licensed contractors covering the rest of the country. Contact us today for more information about how we can help your business in Australia.

SecureCash guarantees the safest handling of your business takings. In case we miss your bank's cut-off time, your money will be kept in a protected and undisclosed location until it's delivered to your bank the next business day.

Your daily takings' safety is our top priority. It is important to us that our services are delivered in a professional and timely manner, no matter what your business is—no matter where you are located.