Cash Collection Services,
Cairns AU
---
Looking For Cash Collection Services in Cairns?
---
Cash Collection is a security service that assists companies in carrying any amount of cash, coins, and cheques from their location to the bank. SecureCash is Cairns #1 cash collection service provider that offers covert and discreet transport of money.
Call us today to know how we can benefit your business.
Our Cash Collection in Cairns
Cairns is rich in world-class cafes, hotels, restaurants, boutiques, tourist attractions, and recreational centres. If you own a business in Cairns, it would be best to prioritise on cash security to keep your company on top and stay ahead of your competitors.

SecureCash provides the most reliable cash collection service in Cairns. We can pick up your daily takings and take it to the bank for you. This time you won't have to go to the bank personally or ask one of your staff to process your deposit.

SecureCash specializes in low-key and private cash collection services. We deploy plain clothed officers who do not carry sidearms. They are trained to blend in with the crowd to maintain fewer distractions while money is being moved in your building. Our couriers will secure the funds in your bank-provided satchels and drive to the bank in an unmarked vehicle.

We understand that there are many things to consider in choosing the right cash collection company. With SecureCash, we aim to present the best customer service so that our clients can reach out to us anytime. We offer the best cash security solutions so to keep your funds and your company out of possible risks.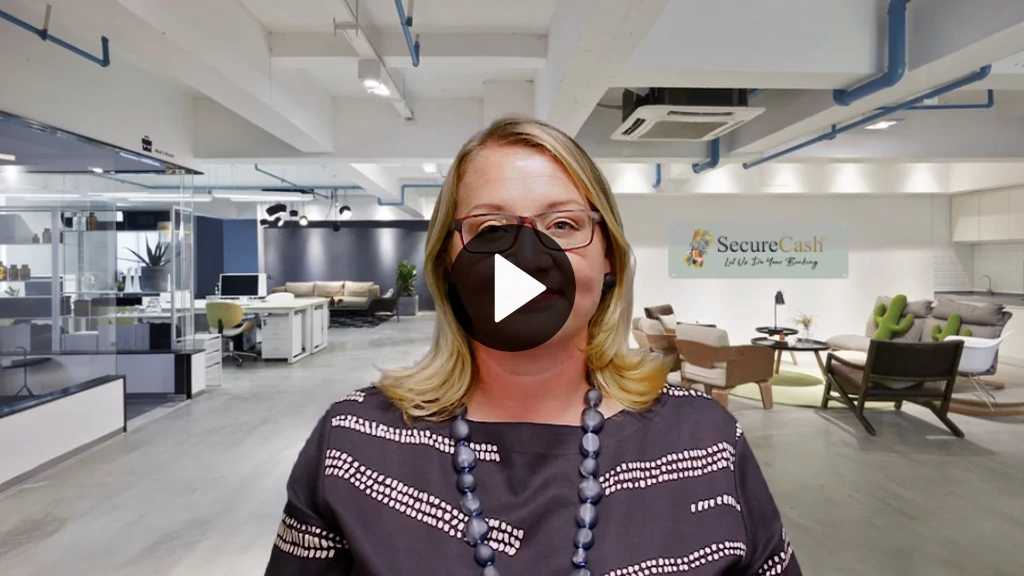 A couple words from our General Manager Bethaney Bacchus
Why Are We the Best Cairns Cash Collection Provider in Australia?
---
SecureCash wants to maintain a trusted relationship with its clients. We want to offer flexible and affordable solutions, that is why we do not let you sign long and lengthy contracts. We want to offer customizable solutions so that clients will have the most fitting security for their business takings.

Though many believe that cash-in-transit is vital for the protection of assets, some companies are still hesitant about its importance, thinking that it's just another unnecessary cost for the company. That's why they prefer to do it manually, like going to the bank by themselves or by asking one employee to do the task.

Personally banking your money is never a wise choice. It may entail possible problems in the future which can greatly put your company and employees at risk. Let the professionals handle your banking by calling us today. We are excited to present you with various options that can be very beneficial for your company.

You may book for cash collection services online through our website. You can request for a daily, weekly, fortnightly, or a monthly pickup. We can also help you with one-time or ad hoc collections. Just call us anytime you need us, we are your one-stop cash security specialist in Cairns.

If you are not sure on what service to avail, feel free to talk to us and we'd be glad to present you with ideas. We can make adjustments on your pick up schedule and we are fine with any pickup venue, wherever you are located in Newcastle.


Call Us Today
For your Cairns cash collection needs, contact 1300 732 873. We are standing by and ready to discuss how we can help secure your business.
Secure
Cash
Don't take the risk.
Let us do your banking!
SecureCash provides cash collection services in Cairns — 24 hours a day, seven days a week. We have branches in Adelaide AU, Sydney AU, Melbourne AU, Hobart AU, Brisbane AU, Perth AU, Newcastle AU, Wollongong AU, Gold Coast AU, Central Coast AU, Canberra AU, Toowoomba AU, Warrawong AU, Bendigo AU, and Kadina AU, plus a network of licensed contractors to cover the rest of the country. Contact us today for more information about how we can help your business in Australia.

SecureCash guarantees the safest handling of your business takings. In case we miss your bank's cut-off time, your money will be kept in a protected and undisclosed location until it's delivered to your bank the next business day.

Your daily takings' safety is our top priority. It is important to us that our services are delivered in a professional and timely manner, no matter what your business is—no matter where you are located.