Cash Collection Services,
Gold Coast AU
---
Looking For Cash Collection Services on the Gold Coast?
---
Cash collection is a cash management service that helps companies secure their business takings. SecureCash provides cash collection services in the Gold Coast. We can pick up your money right from where you are, take it to the bank, and deposit it for you. Find out how we can help your business by getting a quote today!
Cash Collection on the Gold Coast
As a business owner, you will need organized and workable methods to help secure your assets. You need to enhance your security techniques to aid the development of your business operations. Also, to stay ahead of your competitors, you will require a trusted organisation to help manage your daily takings safely.
SecureCash provides cash collections on the Gold Coast. We specialize in the covert pick up of daily funds and its secure transport to the bank. Our services include cash collection, cash delivery, and cash counting services, which can all be customized according to what works best for you.
You can request a cash collection through our website or by calling 1300 SECURE. Once we have confirmed your request, our Gold Coast Cash Collection team will secure your money inside your bank-provided satchels. This way, no money will be lost during the process. Once everything is ready, they will drive to the bank and deposit your funds.
We also service charity organizations who need their collected donations sorted out after an event. We can deposit the money to your bank or wire transfer the amount to your bank account. We will also provide you with the breakdown of the counted funds.
We aim to provide the best solution for both new and returning clients. Whatever the size of your business, our solutions remain quality and professional in solving your cash collection needs in the Gold Coast.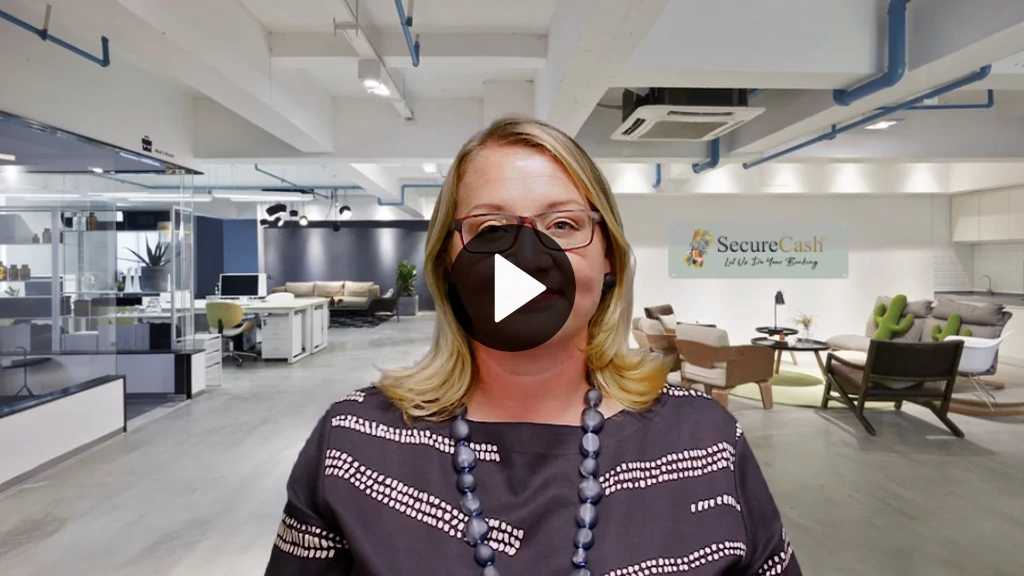 A couple words from our General Manager Bethaney Bacchus
Why Are We the Best Gold Coast Cash Collection Provider in Australia?
---
Use SecureCash for Your Cash Security Benefit
SecureCash has been in the cash security business for a long time. We service different kinds of businesses like retail stores, coffee shops, boutiques, cafes, government offices, school, universities, and other commercial institutions.
Our cash collections on the Gold Coast can also assist in company events that require extra security measures. We can deploy a single security guard or multiple guards, whatever works for you. We offer top-class services based on the needs of the client.
Opting for our services doesn't require a formal contract. We do not lock you in lengthy or binding agreements or ask you to only work exclusively with SecureCash.
Your cash collection schedules will depend entirely on your preference and your company's most preferable date. Whether you need a daily, weekly, monthly, or bi-weekly collection, we got you covered.
Our aim is to make sure that your funds are deposited to the bank within the day. We want to build a trusted relationship with our clients and we want to help make their daily lives more convenient and manageable.
Call Us Today
Our number is 1300 732 873 and our friendly staff are standing by, ready to discuss your Gold Coast cash collection needs and how we can help your business.
Secure
Cash
Let us do your banking
Don't take the risk.
SecureCash provides cash in transit services on the Gold Coast — 24 hours a day, seven days a week. We have branches in Adelaide AU, Sydney AU, Melbourne AU, Hobart AU, Brisbane AU, Perth AU, Newcastle AU, Wollongong AU, Toowoomba AU, Cairns AU, Central Coast AU, Canberra AU, Warrawong AU, Bendigo AU, and Kadina AU, plus a network of licensed contractors to cover the rest of the country. Contact us today for more information about how we can help your business in Australia.

SecureCash guarantees the safest handling of your business takings. In case we miss your bank's cut-off time, your money will be kept in a protected and undisclosed location until it's delivered to your bank the next business day.

Your daily takings' safety is our top priority. It is important to us that our services are delivered in a professional and timely manner, no matter what your business is—no matter where you are located.