Cash Collection Services,
Wollongong AU
---
Looking For Cash Collection Services in Wollongong?
---
A cash collection service is the safest way to transport huge amounts of cash from one location to another. SecureCash collects your money from your office location and safely transports it to the bank in an unarmoured vehicle. Call us now to find out how cash collection benefits your company in Wollongong.
Our Cash Collection Services in Wollongong
Running a business in Wollongong can be very demanding. A catering business, for example, takes a lot of dedication and preparation. A restaurant can be pretty swamped with customers, and retail shops may need daily inventory checkups. A hectic schedule will leave you so stressed, leaving you no time for banking duties.
As a business owner, it is your job to keep your business takings secure. And since it is never safe to keep your revenues in the building, you must find ways to deposit them before putting your company at risk.
SecureCash provides cash collection services in Wollongong. We can handle the management and transport of your funds, giving you more time to perform other tasks that have been left out from your schedule.
We Pickup and Deposit Your Funds
We understand how business owners have lesser free time. To help you out, we keep our cash collection service simple and straightforward.
To request for a cash collection service in Wollongong, simply get a quote or call us at 1300 SECURE. Once confirmed, a team will be assigned to your location to secure your funds.
The courier will secure the money in your bank satchels. The satchel's barcode will be scanned using our new eDockets App, a software innovation unique to SecureCash. Once all information is uploaded in the eDocket, couriers will now proceed to the bank and deposit your money. You will receive confirmation updates and copies of your eDocket through your email.
Our Wollongong cash collection branch can also assist in special events like festivals, conventions, fundraisers, etc. We can supply or deliver your funds and we can help you count your after-sales revenues. In case you need close protection security guards, we can also make recommendations for you. Just tell us what you need and we'll find ways.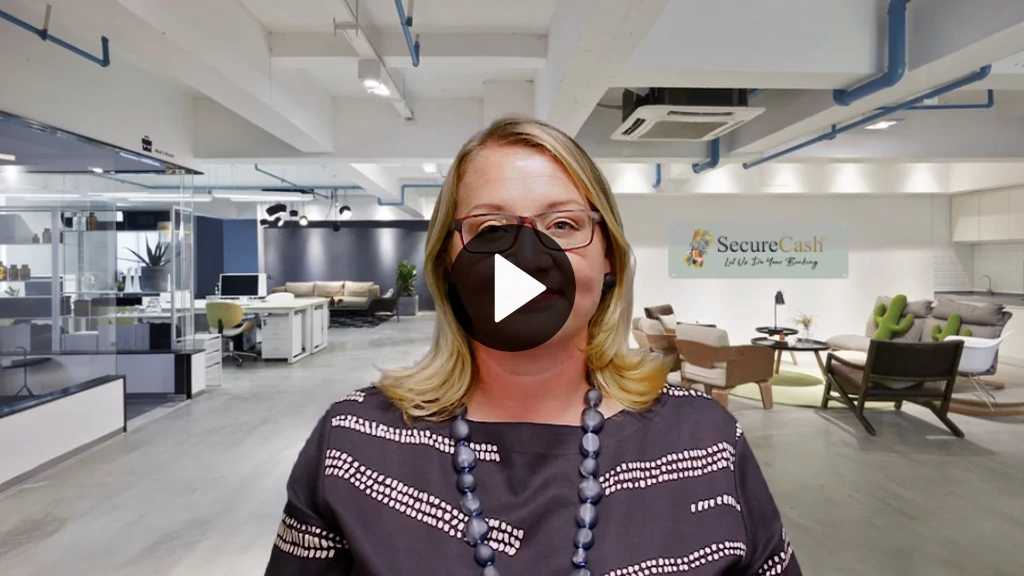 A couple words from our General Manager Bethaney Bacchus
Why Are We the Best Wollongong Cash Collection Provider in Australia?
---
Low-key Cash Collection Process
Most cash collection providers in Wollongong have armed security officers who drive armoured trucks. But we understand that some companies prefer a private cash transport activity. Some restaurants do not want armed guards passing in and out of the dining hall, and other retailers don't want big armoured trucks parked outside their store. They prefer a low-key and underground transport of their money.
Our covert operation is what makes SecureCash stand out from the rest. Our couriers wear plain clothes and drive unmarked vehicles. This allows us to move freely without causing any disruptions in your workplace. We respect your need for privacy so we do not want your cash transport to be a flashy affair. Also, a low-key procedure protects you from any possible threats of an intrusion and data breach.
Available Anytime
For your convenience, the cash collection service can take place at your most available date. We can customise a banking pick up or delivery schedule that fits best for your company in Wollongong.
We work with Australia's local and major banks like St.George, Commonwealth, Westpac, NAB, ANZ, BankSA, and Bendigo Bank. We don't offer lock-in contracts. Whether it's a regular collection or just a one-time pickup, you can rely on SecureCash to get the job done. We are reachable 24 hours a day, 7 days a week, even on weekends and holidays.
As a trusted cash-in-transit company, we adhere to the laws and rules in handling cash collection services in Wollongong. When it comes to securing your business takings, you are in good hands with SecureCash.
Call Us Today
If you need a reliable cash collection service, call 1300 732 873. Our friendly staff are standing by and ready to discuss how we can help secure your business in Wollongong.
Secure
Cash
Don't take the risk.
Let us do your banking!
SecureCash provides cash collection services in Wollongong — 24 hours a day, seven days a week. We have branches in Adelaide AU, Sydney AU, Melbourne AU, Hobart AU, Brisbane AU, Perth AU, Newcastle AU, Gold Coast AU, Cairns AU, Central Coast AU, Canberra AU, Toowoomba AU, Warrawong AU, Bendigo AU, and Kadina AU, plus a network of licensed contractors to cover the rest of the country. Contact us today for more information about how we can help your business in Australia.

SecureCash guarantees the safest handling of your business takings. In case we miss your bank's cut-off time, your money will be kept in a protected and undisclosed location until it's delivered to the bank the next business day.

Your daily takings' safety is our top priority. It is important to us that our services are delivered in a professional and timely manner, no matter what your business is—no matter where you are located.