Cash Collection Services,
Perth AU
---
Looking For Cash Collection Services in Perth?
---
A cash collection service is a process of picking up daily takings from a business location and transporting it to the bank for much safer cash deposits. SecureCash offers reliable and hassle-free services to all establishments located in and around Perth. Contact us for ad hoc and regular cash collection needs. Call us now!
Our Cash Collection Services in Perth
Cash collection involves picking up your money and physically transferring it to the bank. This means that a cash courier will come to your premises to collect the funds, which suggests that choosing a reliable and trustworthy cash collection services for your business in Perth is essential for your company's success.

SecureCash has been in the cash in transit business since 1992. For over 25 years, we have specialized our cash collection Perth strategies making it one of the best services we have offered to clients. Being in this business for years, we are proud to say that we are pretty good at what we do.

As Australia's #1 cash in transit provider, we are fully equipped to run cash transports for organisations of any size. We have helped retail stores, food chains, hotels, restaurants, pet shops, and financial firms. We also service schools, universities, sports clubs, community groups, healthcare sectors, and government organizations.
Can You Walk Me Through the Cash Collection Process?
You can easily request for our service by getting a quote or by calling 1300 SECURE.

After your booking is confirmed, a secure cash Perth's collection team will be deployed to your location in Perth. The courier will collect your money (cash, coins, and cheques) in your bank's tamper-evident satchel and will then be registered on our eDocket System.

Our eDocket System is the leading software application that's only unique to SecureCash, which allows users to easily track the deposit. Your satchel's barcode will be scanned to upload all the required data on the eDocket. You will then be asked to sign the docket to confirm the pickup and our courier will proceed to the bank. The satchels will remain unopened until it reaches the bank.

To confirm the deposit, the transaction receipt will be uploaded in the eDocket app and a digital docket will be generated. Real-time updates and notifications regarding the transaction will be sent to you via email.
As Well As Cash Collection, We Also Provide...
Cash Delivery
Do you need to top-up your floats from time to time? We can do that for you. You can even request for the money to be sorted out in various denominations. We can collect the money from your bank, arrange it according to your specified denominations, and deliver it straight to where you are.
Cash Counting
If you own a business like parking meters, vending machines, charity boxes, and the like, we can help you sort out your cash and coins. Our couriers can collect the money and bring it to our depot to be counted out using our state-of-the-art cash sorting and processing machines. After that, we can deliver the money to you or transfer it to your bank account.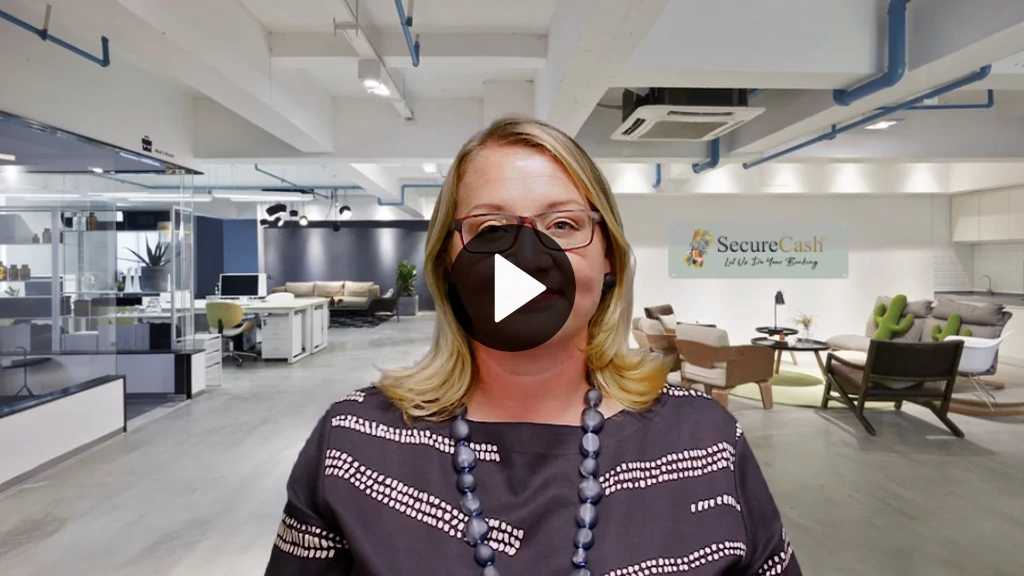 A couple words from our General Manager Bethaney Bacchus
Why Are We the Best Cash Collection Perth Provider in Australia?
---
What Makes Us Standout From the Rest
Professional Cash Couriers: Our team is thoroughly vetted and fully trained to handle your cash collection Perth needs. As a partner, you will be provided with login details where you can verify the identity of your assigned courier.

Covert Operations: Most cash in transit companies operate with uniformed couriers and armoured vehicles. SecureCash has transformed this norm by providing underground transport operations. Our couriers are plainclothed officers who drive non-armoured cars. They are trained to enter and exit your premises without disrupting your business.

Fully Insured: All our services are covered by a nationwide CIT insurance policy, which means that your cash assets are protected from the moment we pick up your money until it is delivered to your bank.

Licensed and Accredited: SecureCash is a government licensed organisation and is accredited by the Australian Security Industry Association Limited (ASIAL) to operate all throughout the country.

As a trusted company, we always put the needs of our clients first. We constantly upgrade and improve our technology, business processes, and security procedures. To meet the highest standard in cash collection services, we aim to provide the most efficient solutions that are cost-efficient and flexible at the same.
Call Us Today
Call us at 1300 SECURE so we can start discussing the benefits of hiring a cash collection service for your business in Perth.
Secure
Cash
Don't take the risk.
Let us do your banking!
SecureCash provides cash collection services in Perth — 24 hours a day, seven days a week. We have branches in Adelaide AU, Sydney AU, Melbourne AU, Hobart AU, Brisbane AU, Newcastle AU, Wollongong AU, Gold Coast AU, Cairns AU, Central Coast AU, Canberra AU, Toowoomba AU, Warrawong AU, Bendigo AU, Kadina AU, and the Perth Banking Courier, plus a network of licensed contractors to cover the rest of the country. Contact us today for more information about how we can help your business in Australia.

SecureCash guarantees the safest handling of your business takings. In case we miss your bank's cut-off time, your money will be kept in a protected and undisclosed location until it's delivered to your bank the next business day.

Your daily takings' safety is our top priority. It is important to us that our services are delivered in a professional and timely manner, no matter what your business is—no matter where you are located.