Cash Collection Services,
Melbourne AU
---
Looking For Cash Collection Services in Melbourne?
---
Cash collection is a cost-effective service that assists your business in moving any amount of cash, making sure your money reaches its destination swiftly, safely, and on time. Find out how SecureCash's world-class services can help you save the time and hassle of going to and from the bank in Melbourne. Request for a quote now!
Our Cash Collection Services in Melbourne
Companies are always after the safety of the business and their assets. To protect them, they turn to cash collection companies to manage their banking needs.

SecureCash provides reliable cash collection Melbourne businesses and its neighbouring suburbs. For over 25 years, we have become the largest and the most trusted cash-in-transit service provider in Melbourne, Victoria.

We have an office in Melbourne CBD, so our cash collection services team can operate anywhere from Craigieburn to Rosebud, from Frankston to Pelham, and all across the metropolitan area.

We also service all the popular Melbourne shopping precincts including:
Docklands,
Chadstone,
Southland,
Eastland,
Northland,
Bourke Street Mall,
Chapel Street,
St Kilda,
Fountain Gate,
Box Hill Centro,
Westfield Doncaster,
Westfield Airport West,
Southbank… and more.
We Also Serve Rural Victoria — and the Rest of Australia
If your business extends towards rural Victoria, we've got you covered. Please call us to discuss the details and we'd be glad to help you out.

Our depots are located in Adelaide, Brisbane, Canberra, Melbourne, Newcastle, Perth, Sydney. To assist the cash collection needs in suburbs and rural centres, we have assembled a network of contractors to cover all regional areas so we can conveniently provide our cash security services Australia wide.

So if your business extends into rural Victoria, we've got you covered. Please call us to discuss the details.
Can You Walk Me Through the Cash Collection Process?
On the arranged day, our cash escort will arrive at your business in plain clothes and discreetly identify himself. If you need to double-check if he's really with SecureCash, you can do so by verifying his identity. Simply log in to your account on our website's online services.

In your back office, our representative will collect your money in the tamper-evident satchels provided by your bank.

The satchels will be scanned on our eDocket System, the latest software application that's only unique to SecureCash. Once all the required data has been filled in, you will then be asked to sign the docket to confirm the pickup. Our courier will now proceed to the bank, making sure all satchels remain unopened until it reaches the bank.

Once the money has been given to the bank to be deposited into your account, the transaction receipt will be uploaded in the eDocket app and a digital docket will be generated as a confirmation for your deposit on that day.

Real-time updates and notifications regarding the transaction will be sent to you via email with GPS stamping included.
What Makes SecureCash Standout from the Rest?
Whenever you see a big armoured truck parked outside a building, people can definitely tell what's going on — that large sums of money are being moved; that's why the uniformed couriers stand guard with their firearms.

The truck and the guards outside are indications that you have money inside. Robbers and thieves may have observed your pickup and delivery schedules from afar, which can greatly put your business in jeopardy.

SecureCash operates in a different way. Instead of making your cash collection Melbourne a highly public affair, our staff wear plain clothes and drive regular everyday vehicles. We keep our cash collections low-key and discreet so your customers won't even know that money is being moved in and out of your building. We have been doing covert cash collection for years and so far, our customers have commended us for our security methods.

The fewer people that know about your cash moving practices, the better. Our staff are trained to blend in with the crowd because we do not want to draw any unwanted public attention when moving your cash. This is to enhance the safety factor for you, your business, your staff and your customers.
Aside from Cash Collection, We Also Provide...
Cash Delivery
You can ask for any amount of cash to be delivered to your place of business. Just let us know the delivery time and how much you need. We will collect the funds from your bank (in whatever denominations you specify) and discreetly deliver them to you. If you need funds outside of bank opening hours, we'll withdraw early and store the locked bank satchel securely until delivery time. No problem!
Cash Counting
Do you operate vending machines, parking meters, charity boxes, or similar? Then our cash sorting and cash processing machines might be just what the doctor ordered. We'll collect your cash, count it, and get it to the bank for you.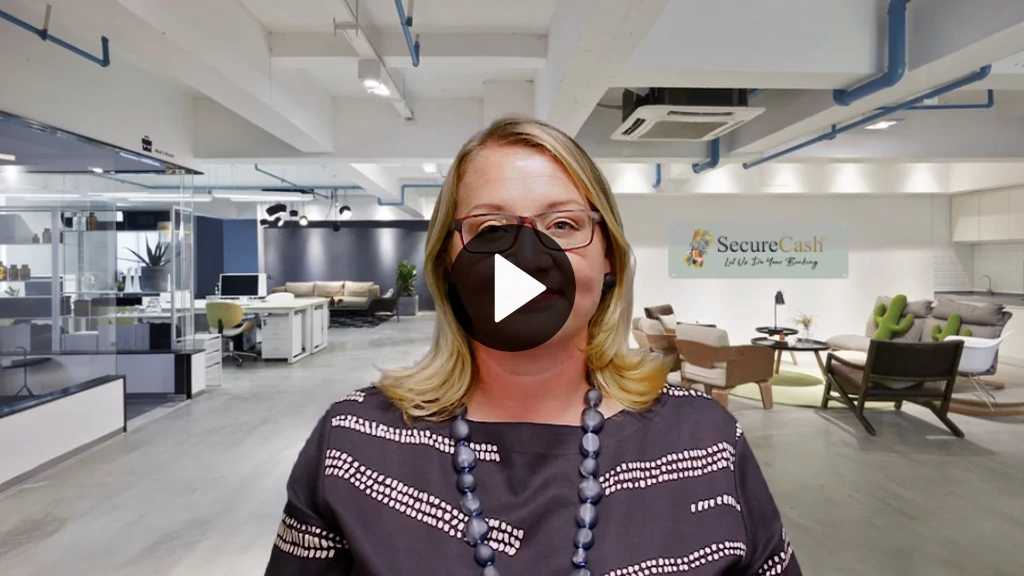 A couple words from our General Manager Bethaney Bacchus
Why Should You Hire a Melbourne Cash Collection Provider for Your Business?
---
Let's Talk About Trust
From its early beginnings in 1992, SecureCash has grown to become one of the biggest and most trusted cash collection service providers in Australia. We constantly innovate to remain fully equipped in serving organisations and industries of any size.

LICENSE AND ACCREDITATION: Our company is licensed and accredited by the Australian Security Industry Association Limited (ASIAL), which is one of the largest and most respected cash-in-transit industry bodies.

INSURED SERVICES: The services we provide are covered under the nationwide CIT insurance policy. For your peace of mind, please feel free to ask for a copy of our cash-in-transit insurance policy anytime.

STAFF TRAINING: We continue to rigorously screen and train our staff to ensure that we are maintaining the highest standards.

CONSTANT IMPROVEMENT: We regularly review our security procedures (as well as our performance records and our business processes) in order to continue serving our growing list of clients with the most exceptional standards we can provide. We continue to upgrade the technologies we use as the needs of our clients evolve.


CALL US TODAY
Call us at 1300 SECURE. We are ready to discuss how we can help you with your cash collection Melbourne needs. Talk to us today!
Secure
Cash
Don't take the risk.
Let us do your banking!
SecureCash provides cash collection services in Melbourne — 24 hours a day, seven days a week. We have branches in Adelaide AU, Sydney AU, Hobart AU, Brisbane AU, Perth AU, Newcastle AU, Wollongong AU, Gold Coast AU, Cairns AU, Central Coast AU, Canberra AU, Toowoomba AU, Warrawong AU, Bendigo AU, Kadina AU, and Melbourne Banking Courier, plus a network of licensed contractors to cover the rest of the country. Contact us today for more information about how we can help your business in Australia.

SecureCash guarantees the safest handling of your business takings. In case we miss your bank's cut-off time, your money will be kept in a protected and undisclosed location until it's delivered to your bank the next business day.

Your daily takings' safety is our top priority. It is important to us that our services are delivered in a professional and timely manner, no matter what your business is—no matter where you are located.