Cash Collection Services,
Sydney AU
---
Looking For Cash Collection Services in Sydney?
---
A cash collection service is the safest way to transport your daily takings from your business location to the bank. SecureCash can collect your money right from your store or office and we'll deposit it to the bank for you. Call us now or get a quote to find out how we can help your company in Sydney.
Cash Collection in Sydney
SecureCash has been providing a professional cash collection service since 1992. We started in Adelaide. And because of our success there, we have expanded our operations all over Australia, including Sydney and other state capitals.
Whenever you need help in moving your cash (in big or small amounts) in and out of your business centre in Sydney, we'd be more than happy to help you by making sure your money reaches its destination safely.
We can arrange a daily, weekly or monthly pickup, whatever suits well with your operational needs.
We always make sure to bank your funds the same day we collect them. But in case we miss the banking cut-off time, we can secure your funds in our depot and deposit them the following business day.
How Does Your Cash Collection Services Process Work?
Once we have finalized your request, a cash collection team will be assigned to visit your premises on the scheduled day. He will meet up with your nominated staff member to collect the banking that you have prepared.
The funds will be sealed in your bank's tamper-evident satchels to ensure that it is safe. It will remain unopened until it is handed over to the bank teller.
The barcode of each satchel will be scanned on our eDocket System, the latest software innovation that's unique to SecureCash. It enables users to easily track the deposit. Scanning the barcode will upload all the required data and you will then be asked to sign the docket to confirm the collection of funds.
Our courier will proceed to the bank and process the deposit. The transaction receipt will be uploaded on the eDocket app and a digital docket will be generated as a confirmation for the deposit you've made on that day.
What Makes SecureCash Standout from the Rest?
Uniformed guards and armoured trucks create a perception that money is stored inside your building. We want to protect our clients, that is why we initiated a different approach.
We focus on low-key cash transport by letting our staff wear plain clothes and letting them drive regular vehicles. They don't carry guns, either. We aim to blend into the community and not draw any special attention from the public.
Aside from Cash Collection Services, We Also Provide...
Cash Delivery
Do you need to top-up your tills? We can deliver any amount of cash in the denominations that you need. Just tell us the amount, location of delivery, and date of delivery. We will visit your bank to collect the funds and bring them to your location on the agreed date.
Cash Counting
Our cash collection services depots are equipped with cash counting and processing machines. This means that we can offer an efficient sorting and counting service for your funds. This is highly recommended if you manage vending machines, parking meters, charity boxes, and the like.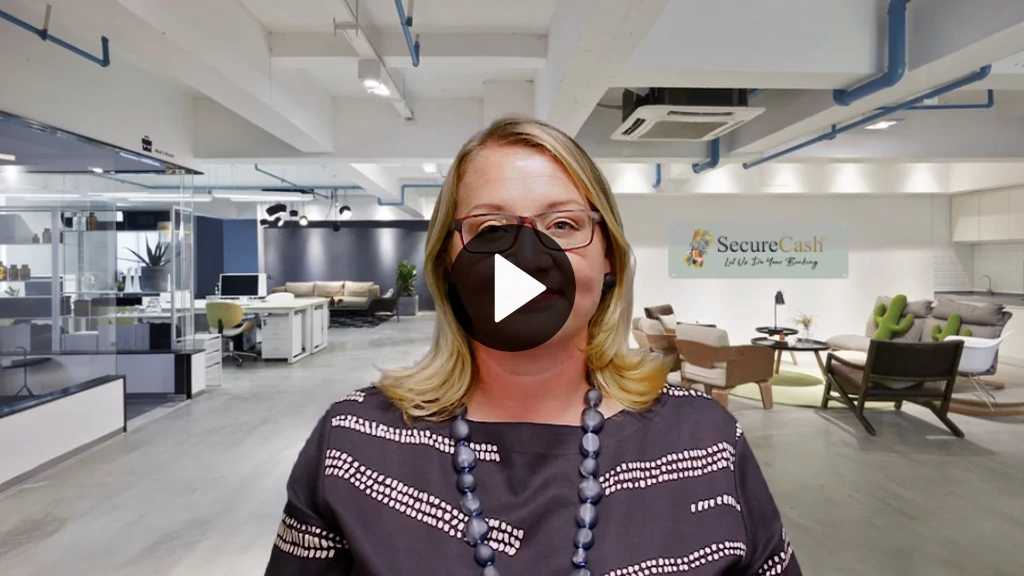 A couple words from our General Manager Bethaney Bacchus
Why Should You Hire a Cash Collection Sydney Provider for Your Business?
---
Let's Talk About Trust
SecureCash is one of the biggest and most trusted cash in transit providers in Australia. We are fully equipped to collect and deliver any amount of cash to organisations of any size.

Licensed and Accredited: Our company is licensed by the government to provide bank runs in Sydney. We are accredited by the ASIAL (Australian Security Industry Association Limited), Australia's largest and most respected cash-in-transit industry bodies. So when you choose us for your cash collection needs, we can assure you that your business is in good hands.
Insured Services: All our cash-in-transit activities are covered by a nationwide CIT insurance policy. This protects you and your business from the moment we pick up your cash until the time it is delivered to your bank.
Online Services: You can easily book for cash collection, delivery, and counting through our website. We also have a specially-designed online system that allows you to verify a courier's identity. You can also monitor the movement and status of your cash while in transit.
Staff Training: We continue to strictly screen and train our staff to ensure that we are maintaining the highest standards.
Business Processes: We regularly review our service delivery procedures as well as our business processes and methods.
Technology: We constantly upgrade our technology as the needs of our clients evolve and as our client list continues to grow.
Our management team has a combined 150 years of experience in the cash security industry. And for over two decades, we have presented our clients with efficient and affordable cash pickup and delivery service.
Call Us Today
For your cash collection Sydney needs, call us at 1300 732 873. Our operators are standing by and ready to discuss how we can help your business in Australia.
Secure
Cash
Don't take the risk.
Let us do your banking!
SecureCash provides cash collection services in Sydney — 24 hours a day, seven days a week. We have branches in Adelaide AU, Sydney AU, Melbourne AU, Hobart AU, Brisbane AU, Perth AU, Newcastle AU, Wollongong AU, Gold Coast AU, Cairns AU, Central Coast AU, Canberra AU, Toowoomba AU, Warrawong AU, Bendigo AU, Kadina AU, and Sydney Banking Courier, plus a network of licensed contractors to cover the rest of the country. Contact us today for more information about how we can help your business in Australia.

SecureCash guarantees the safest handling of your business takings. In case we miss your bank's cut-off time, your money will be kept in a protected and undisclosed location until it's delivered to your bank the next business day.

Your daily takings' safety is our top priority. It is important to us that our services are delivered in a professional and timely manner, no matter what your business is—no matter where you are located.