Cash Collection Services,
Adelaide AU
---
Looking For Cash Collection Services in Adelaide?
---
Cash collection is the process of picking up any amount of money from your business location and transporting it to the bank in a safe, discreet, and timely manner. Get a quote now to find out how SecureCash's cash collection services in Adelaide can help you and your business save time, effort and money.
Our Cash Collection Services in Adelaide
SecureCash provides reliable cash collection services for Adelaide businesses. By using this service, you don't have to personally do the banking or ask one of your staff to do the task. This saves you from leaving your business and losing staff hours.

In SecureCash, we assure you that we can do our job efficiently. Why? Because among our other cash-in-transit operations, cash collection is our clients' most requested service. Through the years, we have handled many cash handling operations across Adelaide and throughout Australia.
How the Cash Collection Process Works
Once we have received your request, our plainclothes cash collection officers will visit your premises on the agreed date. They will discreetly meet with a member of staff (your appointed cash handler) to pick up your daily takings (cash, coins, and cheques).

The cash collection should occur in your back office or any place that is out of the public's view. Our representative will secure and seal your funds inside your bank's tamper-evident satchels. The satchel's barcode will be scanned using our brand new eDocket System, the industry's leading software technology that's unique only to SecureCash. This app allows users to easily track and trace their deposits at the palm of their hands.

Once we have all the necessary documents ready, we will leave your premises without drawing unwanted attention and proceed to the bank to deposit your money. Throughout the transport, your satchels remain untouched until it reaches the bank.
Aside from Cash Collection, We Also Provide...
Cash Delivery
Our cash delivery team in Adelaide can deliver any amount of cash to your business. Just tell us how much you need, where to deliver it, and when do you need it delivered. We can pick up the funds from your bank (in whatever denominations you need) and bring it to you on the appointed date. We can also arrange deliveries for special events like conferences, festivals, and fundraisers.
Cash Counting
Our cash counting service offers convenience and time-efficiency. We help sort out the money from vending machines, parking meters, arcade cabinets, ticket sales, charity boxes, and other coin-operated businesses. We process the counting at our depot that is equipped with state-of-the-art cash sorting and processing machines, which allow us to provide accurate data.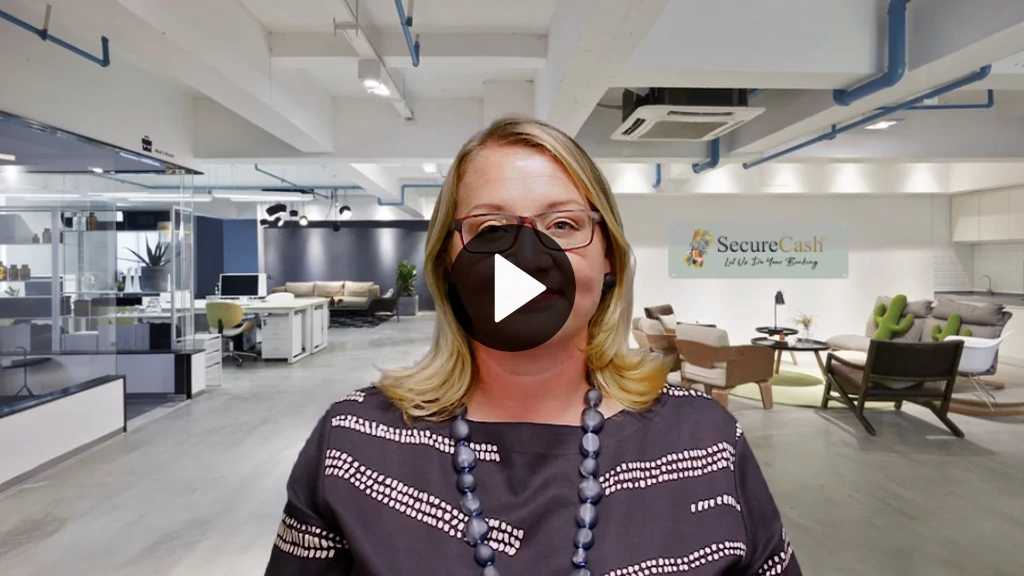 A couple words from our General Manager Bethaney Bacchus
Why Are We the Best Adelaide Cash Collection Provider in Australia?
---
Why We Standout from Others
You might have seen armoured vehicles parked outside office buildings as millions of dollars are being moved to and from the bank every day. As Australia's number one security cash collection services provider, we handle different operations for various organizations all over Adelaide.

But what makes SecureCash different from others?

Covert Transport: During cash collections, your money will be taken care of by our plainclothes staff who drive regular unmarked vehicles. Our aim is to be able to process your request smoothly and cause no disruptions in your place of work.

24/7 Online Service: Booking a cash collection, cash delivery, and cash counting service request is fast and simple. You can either call 1300 SECURE or visit our website. With your SecureCash login, it would be easier for you to process your transactions online.

Dependable Staff and Couriers: We continuously screen and train our staff to maintain the highest standards. Our couriers are well-vetted and highly trained before being deployed on the field. You can also verify their identification using your online services login.

Insured Services: Enhancing the trust factor, please note that all our bank runs are covered by a nationwide cash-in-transit insurance policy. This protects you and your business from the moment we pick up your cash until it is delivered to your bank.

Experienced: SecureCash was established in 1992 in Adelaide. Our management team has a combined experience of 150 years in cash collection work, making us among the first companies to offer this service in Adelaide. Following our success there, we expanded operations to all parts of Australia.

Licensed & Accredited: SecureCash is a security company that is licensed by the Australian government to handle your bank runs in an efficient and timely manner. Our security accreditation is provided by the Australian Security Industry Association Limited (ASIAL), which is the country's peak body for security organisations and professionals in Australia.

As a security company, we constantly assess and improve our core practices. We regularly innovate our method and performance as the needs of our clients have evolved. To accommodate our growing list of clients, we have upgraded our technology and our security procedures.

We can assure you that your business is in good hands with SecureCash.
Call Us Today
Do you need Adelaide Cash Collection Services for your business? Call us today on 1300 SECURE. Our friendly staff are standing by and ready to discuss how we can help your company in Adelaide.
Secure
Cash
Don't take the risk.
Let us do your banking!
SecureCash provides cash collection services in Adelaide — 24 hours a day, seven days a week. We have branches in Sydney AU, Melbourne AU, Hobart AU, Brisbane AU, Perth AU, Newcastle AU, Wollongong AU, Gold Coast AU, Cairns AU, Central Coast AU, Canberra AU, Toowoomba AU, Warrawong AU, Bendigo AU, Kadina AU, and Adelaide Banking Courier, plus a network of licensed contractors to cover the rest of the country. Contact us today for more information about how we can help your business in Australia.

SecureCash guarantees the safest handling of your business takings. In case we miss your bank's cut-off time, your money will be kept in a protected and undisclosed location until it's delivered to your bank the next business day.

Your daily takings' safety is our top priority. It is important to us that our services are delivered in a professional and timely manner, no matter what your business is—no matter where you are located.