Cash Collection Services,
Newcastle AU
---
Looking For Cash Collection Services in Newcastle?
---
Cash Collection is a security service that collects and transports any amount of cash for businesses. Our SecureCash couriers and drivers are well-trained professionals in the field of cash security, management, and transport. Contact us today to find out how we can safely move your money around Newcastle.
Our Cash Collection Service in Newcastle
When choosing a cash collection provider, you want nothing but the best for your company, right? You will need a reliable cash security firm that provides flexible and affordable cash collection services for your business in Newcastle.

Our cash collection service specializes in picking up your money (banknotes, coins, and cheques) and transporting it to the bank on your behalf. This saves you and your staff from having to leave the office to get the banking done.

SecureCash was established in 1992. Since then, we've been providing cash collections in Newcastle and all throughout Australia. And with our long period of experience, we can say that we are pretty good at what we do.

Aside from serving businesses, we also help community groups, schools, government departments, service clubs, sporting organizations, non-profit groups, and other enterprises that handle money.
How Our Cash Collection Process Works
Our plain-clothed cash collection officer will arrive at your location at the time you've arranged. He will discreetly identify himself and you may confirm his identity by logging in to your customer account on our Online Services.

In your back office, out of public view, our representative will collect your funds in the tamper-evident satchels that your bank has issued to you. This is done to ensure that your satchels remain unopened until it reaches the bank.

Our cash collection Newscastle couriers will scan every satchel using our eDockets System, the latest innovation unique to SecureCash. This will upload all the necessary information needed by the bank to process your deposit. You will then be asked to sign the docket as proof of collection.

Once all documents are ready, our couriers will leave quietly without drawing attention to your staff and customers. They will drive to the bank and deposit your funds. You will be notified of the deposit through a live email the moment the courier delivers your funds.
What Makes Us Different from the Rest
A big armoured truck parked outside a building is an indication that the company is holding lots of money. That's why they are manned by uniformed guards with firearms to avert any danger during the cash handling process.

SecureCash's approach is different. Our staff are trained to operate covertly: 1) they don't wear uniforms, 2) they don't carry weapons, and 3) they drive everyday vehicles. They are trained to deliberately blend in with the crowd and look like just any other shopper or customer in your store.

Instead of making your cash collection service a highly visible affair, our cash collection couriers drive regular vehicles and wear everyday clothing. We prefer our operations to be quiet and discreet, your customers won't see us moving cash in or out of your office. Many of our customers have commended us for this method.

The fewer people know about your cash collection schedules, the better.
Aside from Cash Collection, We Also Provide......
Cash Delivery
We can deliver any amount of cash, in any denominations, for your daily trading. Just tell us how much you need, where to deliver it and when. We can work with your bank, collect the funds from them, and deliver it to your location on time.
Cash Counting
Our cash collection depots are equipped with cash sorting and processing machines that help provide efficient and accurate cash counting service. This service is ideal if you own or operate vending machines, parking meters, charity boxes, and the like.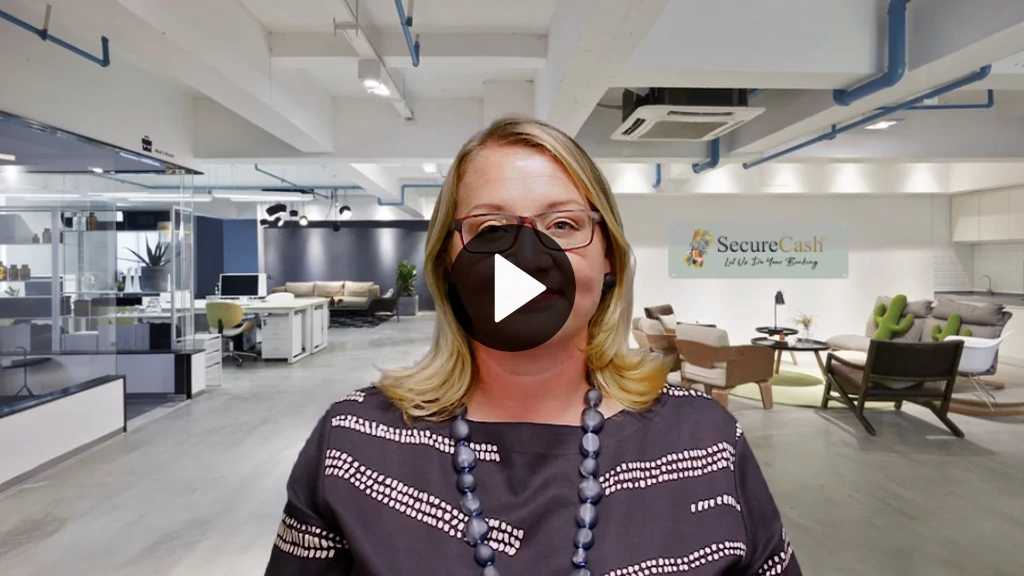 A couple words from our General Manager Bethaney Bacchus
Why Are We the Best Newscastle Cash Collection Provider in Australia?
---
Let's Talk About Trust
SecureCash was established in 1992 in Adelaide. Following our success there, we have expanded our operations throughout Australia including in Newcastle. Our management team has a combined 150 years experience in the cash collection, cash delivery, and cash counting business. Today, we are handling cash-in-transit operations for small, medium-sized, and major businesses across Australia.

SecureCash has become one of the biggest and most trusted cash logistics companies in Australia, serving all states and regions. With depots in Adelaide, Brisbane, Canberra, Melbourne, Newcastle, Perth, Sydney, our staff are equipped to deliver any volume of money to and from the bank.

Licensed: SecureCash is a government-licensed security company that you can rely on in handling your banking needs professionally and efficiently.

Accredited: We are accredited by the Australian Security Industry Association Limited (ASIAL), the country's largest and most respected security service industry bodies.

Insured: All our cash handling activities are covered by our Australia-wide cash-in-transit insurance policy. This protects you and your business from the moment we pick up your cash satchels until the time we deliver them to your bank.

Our Online Services: Our online system allows you to book for any cash-in-transit appointment. You may use our website to confirm the identity of our couriers and monitor the status of your funds.

Staff Training: We continuously screen and train our staff to ensure that the highest standards and best security practices are maintained.

Business Processes: We regularly review our transport procedures as well as our business processes to find better ways of serving our clients.

Technologies: We constantly upgrade our systems as technology has evolved and as our client list continues to grow.

Having operated SecureCash for more than two decades now, we've become pretty good at providing top-notch cash collection solutions to our clients. We aim to always provide better, flexible, and affordable solutions in Newcastle and across Australia.

Call Us Today
For your cash collection Newscastle needs, call us at 1300 SECURE. Our friendly staff are ready to discuss why our services are beneficial for your business. Talk to us today.
Secure
Cash
Don't take the risk.
Let us do your banking!
SecureCash provides cash collection services in Newcastle — 24 hours a day, seven days a week. We have branches in Adelaide AU, Sydney AU, Melbourne AU, Hobart AU, Brisbane AU, Perth AU, Wollongong AU, Gold Coast AU, Cairns AU, Central Coast AU, Canberra AU, Toowoomba AU, Warrawong AU, Bendigo AU, and Kadina AU, plus a network of licensed contractors to cover the rest of the country. Contact us today for more information about how we can help your business in Australia.

SecureCash guarantees the safest handling of your business takings. In case we miss your bank's cut-off time, your money will be kept in a protected and undisclosed location until it's delivered to your bank the next business day.

Your daily takings' safety is our top priority. It is important to us that our services are delivered in a professional and timely manner, no matter what your business is—no matter where you are located.