Cash Pickup Services,
Wollongong AU
---
Looking For Cash Pickup Services in Wollongong?
---
A cash pickup service is a process of collecting any amount of cash from one location to another. Our SecureCash couriers pick up your money from your business premises and safely transports it to the bank in an unarmoured vehicle. Call us now to find out how our services greatly benefit your company in Wollongong.
Our Cash Pickup in Wollongong
Wollongong is known for its heavy industry. As a coastal city, it has a bustling port and trading activity. The CBD is rich in commercial centres, department stores, food outlets, specialty shops, entertainment venues, offices and business centres.
If you own a company in Wollongong, a cash pickup service is an ideal solution to have a well-organized schedule. This service is meant to provide convenience for busy entrepreneurs, event coordinators, and retail business owners.
SecureCash is a cash-in-transit company that provides cash pickup solutions in Wollongong. We offer top-class cash management, security, and transport solutions for all types of industries.
We specialize in the collection and delivery of funds to and from the bank. How can you avail of this service? How does it work?
We Can Do the Banking for You
You may call 1300 SECURE or get a quote to request for a cash collection service. Once we have finalized your request, the Wollongong cash pickup team will be deployed to your location to pick up the funds.
They will secure your money in your bank-provided satchels and upload all necessary information on our eDocket App. Once everything is set, they will head on to the bank and deposit your funds. You will receive updates about your banking through email every step of the way, giving you peace of mind knowing where your money is at all times.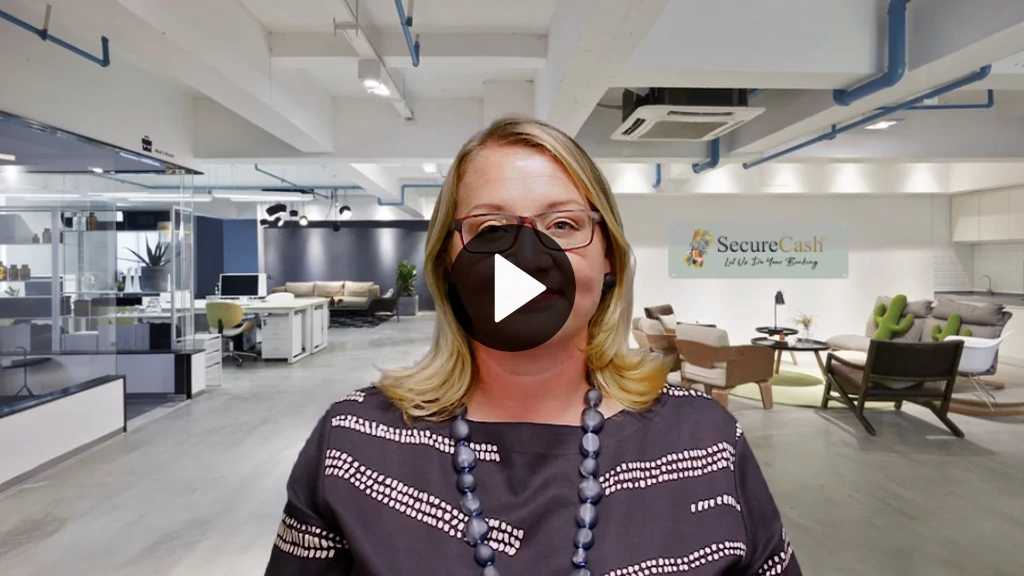 A couple words from our General Manager Bethaney Bacchus
Why Should You Hire an Wollongong Cash Pickup Provider for Your Business?
---
We Can Deliver Your Funds
There'll be times when a business, especially retail stores, will run out of cash and coins. Some may send their employee out, or as a last resort, they may close up for a while to withdraw more money.
With SecureCash, this should now be the least of your worries. We can pickup your money from the bank and deliver it to your location. This way, you do not have to close up the shop and run to the bank, missing out on your daily quota.
Like our cash collection service, you may request for cash delivery by getting a quote or by calling 1300 SECURE.
Professional Cash Pickup Solutions
SecureCash is a covert cash-in-transit provider. During the pickup process, our couriers do not wear security uniforms or drive armoured cars. Instead, they wear plain clothes and transport your funds in an ordinary car. This makes it easier for them to blend in with the crowd and avoid any unwanted attention from your customers, allowing them to get on with their task more efficiently.
SecureCash is licensed by the government and accredited by The Australian Security Industry Association Ltd (ASIAL) to operate cash pickup services in Wollongong. All our services are insured by a nationwide CIT policy, which keeps your money protected throughout the transport process.
With SecureCash, you can finally have more time to focus on the other aspects of your business and enjoy the complete peace of mind you deserve.
Call Us Today
For your Wollongong cash pickup needs, contact us at 1300 732 873. Our friendly staff are standing by and ready to discuss how we can help secure your business.
Secure
Cash
Don't take the risk.
Let us do your banking!
SecureCash provides cash pickup services in Wollongong — 24 hours a day, seven days a week. We have branches in Melbourne AU, Hobart AU, Sydney AU, Perth AU, Gold Coast AU, Adelaide AU, Brisbane AU, Bendigo AU, Kadina AU, Warrawong AU, Canberra AU, Cairns AU, plus a network of licensed contractors to cover the rest of the country. Contact us today for more information about how we can help your business in Australia.

SecureCash guarantees the safest handling of your business takings. In case we miss your bank's cut-off time, your money will be kept in a protected and undisclosed location until it's delivered to your bank the next business day.

Your daily takings' safety is our top priority. It is important to us that our services are delivered in a professional and timely manner, no matter what your business is—no matter where you are located.