Cash Pickup Services,
Bendigo AU
---
Looking For Cash Pickup Services in Bendigo?
---
Cash pickup is a safe and cost-effective service that benefits all types of businesses. SecureCash has banking couriers in Bendigo who can collect any amount of cash from your company's location and transport it to the bank in a timely manner. Get a quote now or call us today to find out how our services can help your company.
Our Cash Pickup in Bendigo
Grocery stores, supermarkets, and other retail outlets play a very crucial role in society. It's where we get provisions and other essential goods. If you own a retail store in Bendigo, your time could be spent dealing with customers, training employees, responding to calls, and talking to business partners.
The busy schedule will leave you occupied and you won't have enough time to visit the bank and deposit your takings. If this is the case, it's time you outsource the banking task to a trusted cash pickup provider so you can focus on your work and your customers.
SecureCash is a cash-in-transit company that provides cash pickup services in Bendigo. We offer cash security, management, and transport solutions for businesses in different fields. We specialize in the covert collection and transport of your takings (cash, coins, and cheques).
We Pickup and Deposit Your Funds
If you need a banking service in Bendigo, get a quote or call our hotline number at 1300 SECURE. Once confirmed, a cash pickup team will be sent to your location to pick up your money. The funds will be secured in the tamper-evident satchels provided by your bank. Once all cash and documents are gathered, they will drive to the bank to process your deposit.
We Can Deliver Your Funds
Retailers will need to replenish their funds to serve more customers throughout the day. But some have limited staff and closing up to run to the bank seems to be the last option, thus causing a terrible loss of customers for the day.
Make sure this will never happens to you. Let our Bendigo team pick up the money from your bank. Call us and request a cash delivery so we can make arrangements. You may request to have specific denominations ready so that we can sort it out before delivery.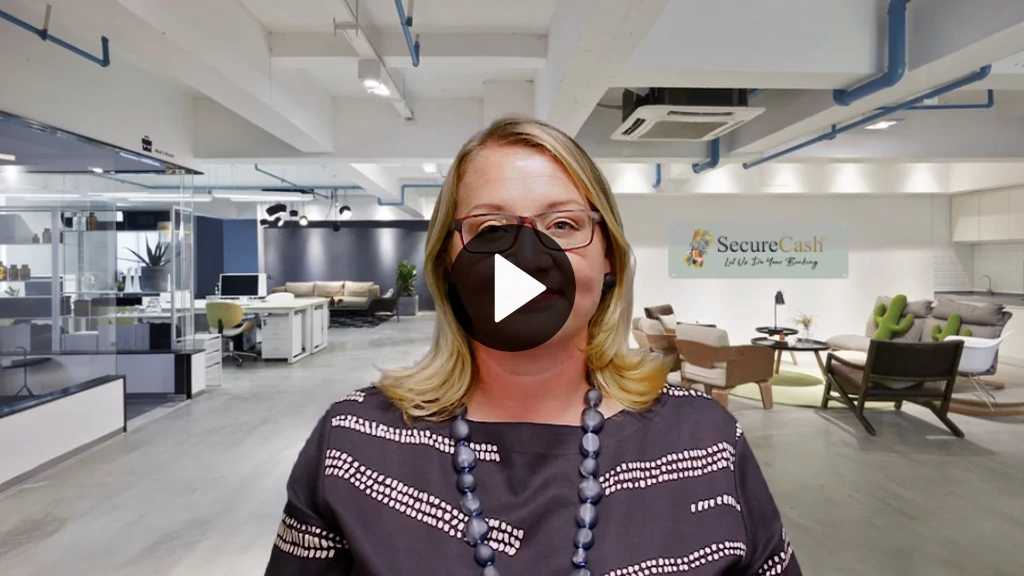 A couple words from our General Manager Bethaney Bacchus
Why Should You Hire an Bendigo Cash Pickup Provider for Your Business?
---
Convenience and Flexibility
With SecureCash, you do not have to worry about your busy schedules. if your day's preoccupied, we'll take care of the banking for you. The next time you run out of funds, don't close the store, we can bring your money right to where you are. This way, you can proceed with the day's work without any interruption.
If you need a regular cash pickup, we can arrange a daily, weekly, fortnightly, or a monthly collection for your business in Bendigo. Whether you run a small store or a supermarket, we provide the same trusted service that made SecureCash Australia's number one cash pickup provider.
We offer affordable cash-in transit-solutions to every kind of business. Aside from retail shops, we also service hotels, and restaurants, private schools and universities, government facilities, pet shops, veterinary centres, financial firms, medical and dental offices.
Keep your business on top by toughening your security and outsourcing your banking to us. This way, you can take care of your funds no matter how busy your day is.
Call Us Today
For your Bendigo cash pickup needs, call 1300 732 873. Our friendly staff are standing by and ready to discuss how we can help secure your business.
Secure
Cash
Don't take the risk.
Let us do your banking!
SecureCash provides cash pickup services in Bendigo — 24 hours a day, seven days a week. We have branches in Melbourne AU, Hobart AU, Sydney AU, Perth AU, Gold Coast AU, Adelaide AU, Brisbane AU, Wollongong AU, Kadina AU, Warrawong AU, Canberra AU, Cairns AU, and Toowoomba AU, plus a network of licensed contractors to cover the rest of the country. Contact us today for more information about how we can help your business in Australia.

SecureCash guarantees the safest handling of your business takings. In case we miss your bank's cut-off time, your money will be kept in a protected and undisclosed location until it's delivered to your bank the next business day.

Your daily takings' safety is our top priority. It is important to us that our services are delivered in a professional and timely manner, no matter what your business is—no matter where you are located.