Cash Pickup Services,
Brisbane AU
---
Looking For Cash Pickup Services in Brisbane?
---
Cash pickups are the safest way to transfer your hard-earned takings from your business location to your banking institution in Brisbane. SecureCash guarantees hassle-free transports and a direct credit into your account. Find out more about why we are the most reliable cash security provider in the country. Call us now!
Our Cash Pickups in Brisbane
Should I use cash pickups for my business in Brisbane, Queensland?

There remains a great deal of scepticism when it comes to the use of professional cash pickup, particularly in the case of smaller and medium-sized businesses. The argument is basically one whereby the security of business takings are less prioritized. And for companies to save money, they send a staff member to deposit the money to the bank.

To protect your business, outsource your banking to SecureCash. Our plainclothed courier can pick up your daily takings, secure the money in our covert vehicle, and transport it safely to your banking institution.

We have serviced retail stores, pet shops, hotels, restaurants, private schools and universities, veterinary centres, government facilities, healthcare clinics, financial firms, medical and dental offices. Whether you own a startup organization, a small business or a major corporation, we have got your banking covered.



Personally Banking Your Funds is Risky
Personally carrying your money and taking it to the bank may put your or your staff's life in danger. It may also put your business in jeopardy, especially if someone has been eyeing on your deposit routines. Sending your employee to do the banking for you will only reduce staff hours and decrease your day's productivity.

Outsourcing your banking to a cash pickup professional is very beneficial for your company. Opting for cash pickup Brisbane provides you with more focus for your business, giving you more time to attend to your clients and employees.

We offer you complete peace of mind and we can assure you that our services are efficient and affordable. Your money is 100% safe with our dedicated cash pickup specialists in Brisbane. We can guarantee you that you will never miss any deposit and that your money is in the bank safely and on time.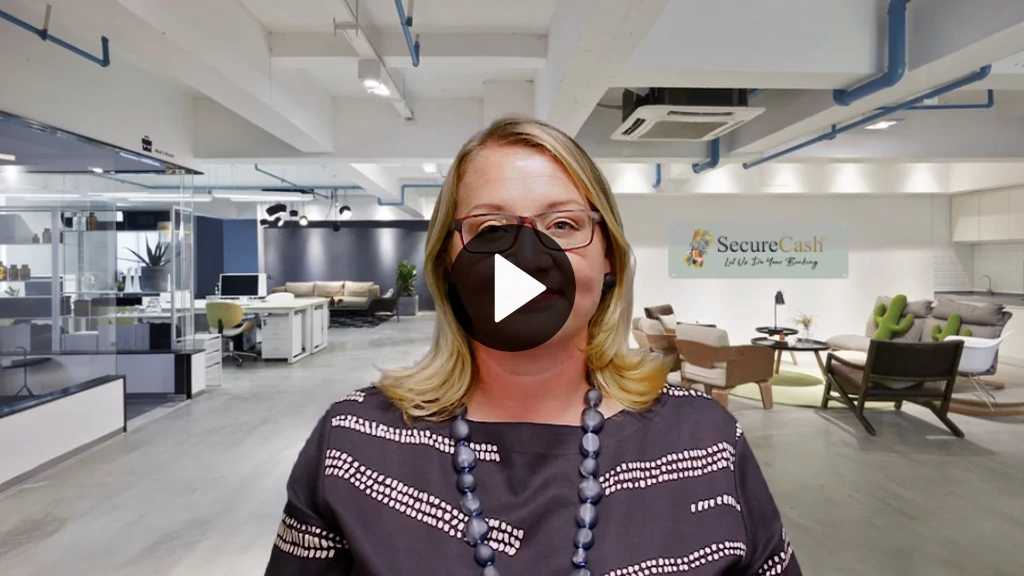 A couple words from our General Manager Bethaney Bacchus
Why Are We the Best Brisbane Cash Pickup Provider in Australia?
---
We Provide Comprehensive Insurance
Our cash pickup service in Brisbane is covered by a nationwide cash-in-transit policy. Regardless of the size of your business, we protect your funds from the time it leaves your office until the time it reaches the bank.

We do not offer lengthy contracts so you are free to request for our services as a one-time transaction. Our cash pickup services are truly a superior and much safer alternative than any DIY approach for any modern business.

As a nationwide company, we work with Australia's local and major banks like St. George, Commonwealth, Westpac, NAB, ANZ, BankSA, and Bendigo Bank.

Call Us Today
For your cash pick up needs, call 1300 SECURE. We'd be more than happy to assist you and discuss how we can help secure your business in Brisbane.

Secure
Cash
Don't take the risk.
Let us do your banking!
SecureCash provides cash pickup services in Brisbane — 24 hours a day, seven days a week. We have branches in Melbourne AU, Hobart AU, Sydney AU, Perth AU, Gold Coast AU, Adelaide AU, Bendigo AU, Wollongong AU, Kadina AU, Warrawong AU, Canberra AU, Cairns AU, and Toowoomba AU, plus a network of licensed contractors to cover the rest of the country. Contact us today for more information about how we can help your business in Australia.

SecureCash guarantees the safest handling of your business takings. In case we miss your bank's cut-off time, your money will be kept in a protected and undisclosed location until it's delivered to your bank the next business day.

Your daily takings' safety is our top priority. It is important to us that our services are delivered in a professional and timely manner, no matter what your business is—no matter where you are located.