Cash Pickup Services,
Hobart AU
---
Looking For Cash Pickup Services in Hobart?
---
Cash pickup is a security service that prevents your funds from going to the wrong hands. SecureCash has bank couriers to pick up your banking from your business location and take it to the bank safely and on time. Get a quote now to find out how we can exactly help your business in Hobart. Call us today!
Our Cash Pickup in Hobart
People love to go and discover fancy restaurants from time to time. As long as you offer savoury menus and the best customer service, people will visit you again. Once clients feel a connection while dining at your resturaunt, they will come back as well as recommend you to others.
Go-to restaurants make more profit than their competitors. If you own one, you will need a great action plan to stabilize the movement of your money.
SecureCash is a cash-in-transit company that provides cash management, security, and transport solutions. We specialize in collecting business takings and delivering it to your specified destinations.
Our cash pickups team in Hobart ensures that all the money is deposited at your bank on the same day. This can be a great advantage for the business as the books are always in order.
Our cash pickup service is also highly recommended for special events and functions. Our cash pickup team can retrieve funds from your bank, arrange it in your requested denominations, and bring it to where you are.
Most restaurants in Hobart prefer SecureCash because we are reachable 24 hours a day. You may schedule a pickup every single day. You can have a bi-weekly or fortnightly collection, it's your call.
Our Hobart cash pickups team are composed of skilled professionals who are qualified to handle risks in any given situation. They are trained in covert and discreet transport, which means that they wear plain clothes and drive everyday-looking cars while doing business with you.
No matter the size of your business, we want to offer our skilled experiences in providing professional, quality, and cost-effective cash pickup solutions. Contact us anytime so we can discuss how our methods and services can greatly benefit your company.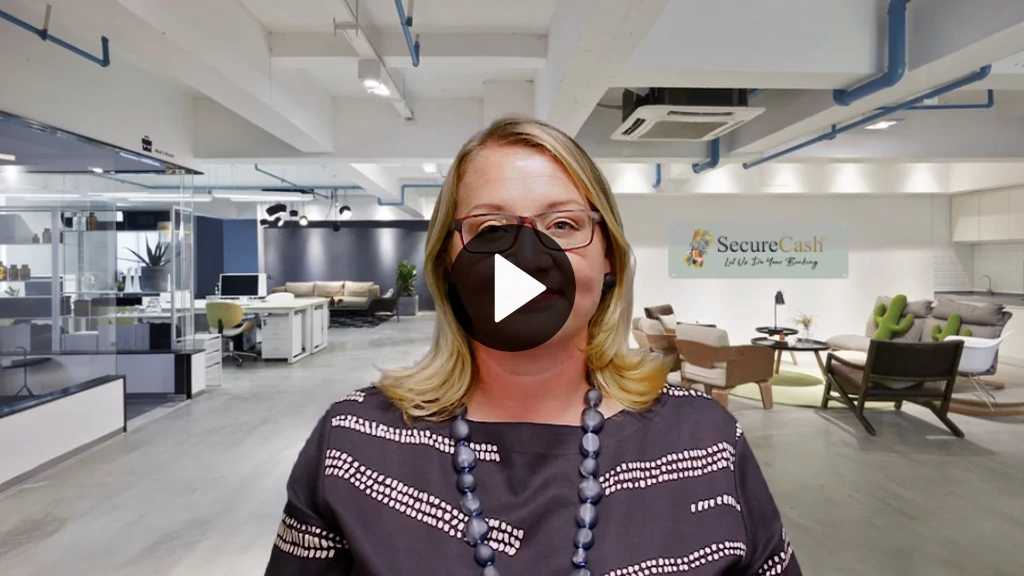 A couple words from our General Manager Bethaney Bacchus
Why Should You Hire an Hobart Cash Pickup Provider for Your Business?
---
Length Of Service
First and foremost, it is crucial to find out how long the provider has been offering cash pickup in Hobart and how well-established the business is.
While there is nothing to suggest that all newcomers and smaller firms will pose a danger, the larger and more well-established providers will always prove the safest by far, for obvious reasons.
Next, it is important to look for guarantees by way of the extent to which the cash in transit is covered against loss and theft. Remember – even in the hands of the professionals it is impossible to rule out incidents to the tune of 100%, so be sure to insist on comprehensive insurance.
Another danger sign that the provider may not be all it appears is that of the insistence of long-term contracts and large upfront payments.
Any provider of cash pickups Hobart with confidence in its services should be more than willing to offer staggered payment systems and demand no upfront payments whatsoever in order to give potential clients a flavor of what is on offer.
CALL US TODAY
Our number is 1300 732 873 and our operators are standing by, ready to discuss your Hobart cash pickup needs and to let you know exactly how we can help.
Secure
Cash
Don't take the risk.
Let us do your banking!
SecureCash provides cash pickup services in Hobart — 24 hours a day, seven days a week. We have branches in Melbourne AU, Hobart AU, Sydney AU, Perth AU, Gold Coast AU, Adelaide AU, Brisbane AU, Bendigo AU, Wollongong AU, Kadina AU, Warrawong AU, Canberra AU, Cairns AU, and Toowoomba AU, plus a network of licensed contractors to cover the rest of the country. Contact us today for more information about how we can help your business in Australia.

SecureCash guarantees the safest handling of your business takings. In case we miss your bank's cut-off time, your money will be kept in a protected and undisclosed location until it's delivered to your bank the next business day.

Your daily takings' safety is our top priority. It is important to us that our services are delivered in a professional and timely manner, no matter what your business is—no matter where you are located.