Cash Pickup Services,
Sydney AU
---
Looking For Cash Pickup Services in Sydney?
---
Cash pickup couriers can safely move your banknotes, coins, and cheques from your business location to your bank in Sydney. We can set up an ad hoc collection or a regular pick up for you, depending on what your company requires. Find out more by getting a quote now to discover how we can exactly help your business.
Our Cash Pickup Service in Sydney
If your company constantly receives and releases funds, we highly recommend that you outsource all cash pickups and transports to a professional banking courier. Having a cash pickup service, like SecureCash, allows you to move freely and give more focus on your business.

SecureCash is an Australian owned and operated company that offers exceptional solutions in cash management, security, and logistics. Established in 1992, the company has built a reputation among its clients and is now one of the best cash-in-transit providers in the country.

To stay on top, we do things differently. We are always after the security of our clients in Sydney, that is why we have transformed the usual cash pickup methods. As a security company, we specialize in covert and low-key cash transport.

This means that during the cash pick up process, our Sydney cash pickup team will transact with you in a discreet way, making no unnecessary disruptions in your work environment. Our couriers wear plain clothes and drive unmarked everyday vehicles. This is to help them blend in with the crowd, allowing them to move and perform their tasks efficiently.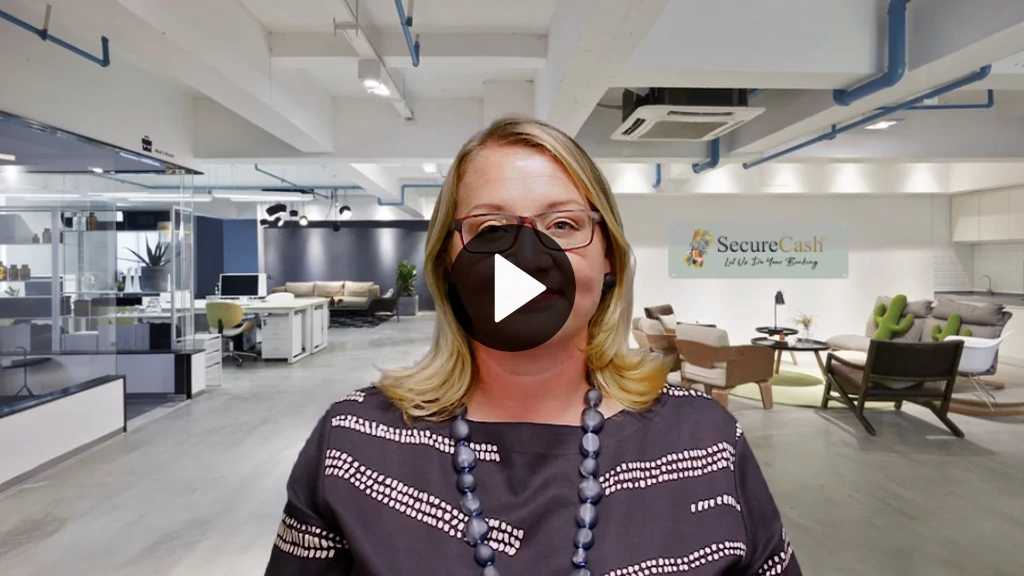 A couple words from our General Manager Bethaney Bacchus
Why Should You Hire a Cash Pickup Service for Your Business in Sydney?
---
We have served many organizations in Sydney including retail stores, pet shops, hotels, restaurants, private schools and universities, veterinary centres, government facilities, healthcare clinics, financial firms, medical and dental offices. We help them by safely retrieving their daily takings and transporting it directly to their banking institution.

Our cash pick up service in Sydney is beneficial and really effective for Business Owners and Office Managers. It enables them to continue their day without the constant interruptions of visiting the bank to process a deposit. This also relieves them from any possible danger while carrying lots of cash outside.

SecureCash ensures that safety levels are always intact in providing cash pickup solutions for companies in Sydney. We always do our best to assess your business environment and situation first before offering the transport measures. This is to avoid any unpleasant circumstances in the future.

Our Sydney cash pickup service always runs in high gear to ensure a quick and safe deposit of funds. SecureCash aims to constantly deliver unparalleled service to businesses, not just in Sydney but all throughout Australia.


Call Us Today
For your cash pickup needs, call 1300 732 873. We're more than happy to discuss how we can help your business in Sydney.
Secure
Cash
Don't take the risk.
Let us do your banking!
SecureCash provides cash pickup services in Sydney — 24 hours a day, seven days a week. We have branches in Melbourne AU, Hobart AU, Gold Coast AU, Adelaide AU, Brisbane AU, Bendigo AU, Wollongong AU, Kadina AU, Warrawong AU, Canberra AU, Cairns AU, Toowoomba AU, and Sydney Banking Courier, plus a network of licensed contractors to cover the rest of the country. Contact us today for more information about how we can help your business in Australia.

SecureCash guarantees the safest handling of your business takings. In case we miss your bank's cut-off time, your money will be kept in a protected and undisclosed location until it's delivered to your bank the next business day.

Your daily takings' safety is our top priority. It is important to us that our services are delivered in a professional and timely manner, no matter what your business is—no matter where you are located.