Cash Pickup Services,
Melbourne AU
---
Looking For Cash Pickup Services in Melbourne?
---
Cash pickup is the process of collecting your business' daily takings and sending it to the bank in a covert method. SecureCash provides cash pickup in Melbourne. Our couriers are trained to blend in with the crowd and create no disruptions in your workplace. Find out how we can help your business by getting a quote now.
Our Cash Pickup Services in Melbourne
A cash pickup services is essential for business efficiency and convenience. Whether you have a start-up store, a food shop, you run a major corporation, or organize special events in Melbourne, we can definitely help you in managing your takings.

We understand that you may not have the time to collect and deposit your cash at the end of the day. This is why SecureCash has popularized the covert concept of cash pickup in Melbourne: to help you save valuable time and money. Also, to give you peace of mind knowing that your funds are safely brought to where it should be — in the bank.

Our cash pick up services team will pick up your business takings (cash, coins, and cheques) at your most convenient time — anytime, day or night, even on weekends and holidays. If you want us to pick up your funds during business hours or after store hours, we can do that for you. We can even count it for you, to make sure there are no bookkeeping or accounting errors.

Our Melbourne cash pickup couriers wear plain clothes and use unmarked vehicles. We do not want to attract any attention from your customers or give them a hint that money is being moved. Also, we do not want to make ourselves or your business become a target from robbery or theft. We keep all transactions low-key, making sure that it's safe to travel to and from the bank with your cash.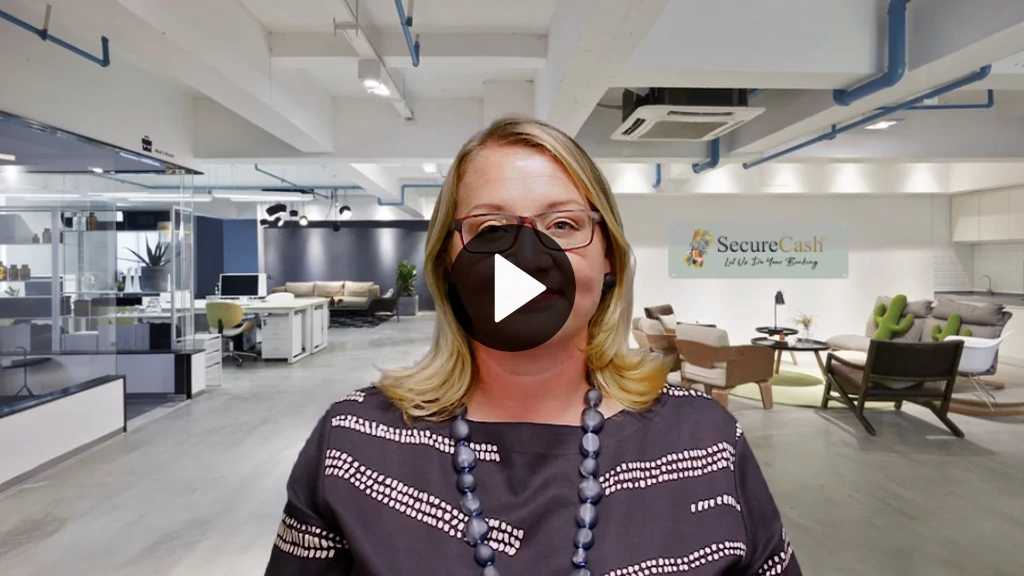 A couple words from our General Manager Bethaney Bacchus
Why Are We the Best Melbourne Cash Pickup Provider in Australia?
---
There are no long term contracts to sign and no complicated paperwork. Just let us know when you need your cash picked up and we'll be more than happy to help.

We understand that it's not always possible for business owners to visit the bank on a daily basis. If you're an event organizer, it would be too exhausting to bring your takings to the bank after your event. Also, that would be very risky for you to personally carry the money around.

This is what we are here for — to keep you out of trouble. We can pick up your money, wherever you are located in Melbourne, and we'll do the banking for you.



CALL US TODAY
Always keep your daily takings secure. Call us at 1300 732 873 and we'd be glad to address your cash pickup Melbourne needs. Let's start discussing how we can help your business today!


Secure
Cash
Don't take the risk.
Let us do your banking!
SecureCash provides cash pickup services in Melbourne — 24 hours a day, seven days a week. We have branches in Adelaide AU, Hobart AU, Sydney AU, Perth AU, Gold Coast AU, Brisbane AU, Bendigo AU, Wollongong AU, Kadina AU, Warrawong AU, Canberra AU, Cairns AU, Toowoomba AU, and Melbourne Banking Courier, plus a network of licensed contractors to cover the rest of the country. Contact us today for more information about how we can help your business in Australia.

SecureCash guarantees the safest handling of your business takings. In case we miss your bank's cut-off time, your money will be kept in a protected and undisclosed location until it's delivered to your bank the next business day.

Your daily takings' safety is our top priority. It is important to us that our services are delivered in a professional and timely manner, no matter what your business is—no matter where you are located.