Cash Security Services
---
Looking For Cash Security Services?
---
Having a cash security service improves company efficiency and enhances business security. SecureCash collects your cash in unarmored ordinary-looking vehicles to avoid public attention, keeping you safe and your money secure throughout the cash handling process. Get a quote now to find out how we can help you improve your company's security.
Our Cash Security Services
Personally moving huge amounts of money can attract risks and it may put you and your business in jeopardy. This is why many businesses have relied on cash security providers to help them keep their money right where it should—in the bank.

SecureCash offers three types of cash security services: cash collections, cash delivery, and cash counting services, all of which are covered by a nationwide insurance policy.
Cash Collection
Cash collection is the strategic process of picking up your business' daily takings (cash, coins, and cheques) and transporting them to your bank for deposit. Having a professional cash courier enhances your company's cash security, giving you more time to focus on other things that matter.
Cash Delivery
There will be times when your store will run out of funds and you may need to close shop while you arrange more money. With SecureCash, this should now be the least of your worries. Our cash delivery team can deliver cash and coins for you—in bulk or in individual floats. We can collect the money from your bank, arrange them according to your required denominations, and bring them right at your doorstep.
Cash Counting
Cash counting is a type of cash security service that is ideal for coin-operated businesses such as vending machines, pokie machines, laundromats, etc. We can collect the money from where you are, take it to our depot, and have it counted. Once the amount is verified, we can bring the money back to you or wire it to your bank account, whichever works best for you.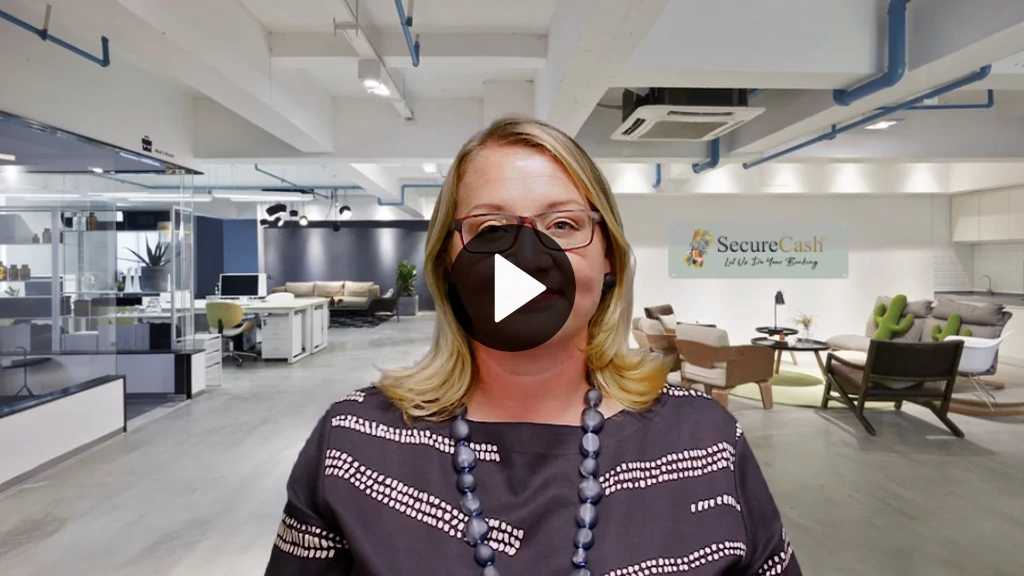 A couple words from our General Manager Bethaney Bacchus
How Can SecureCash Help Your Business?
---
We deploy plainclothes officers.

This is to prevent unnecessary public attention. We meet up with a member of your staff in a discreet manner, away from the general public's view. Our cash couriers blend in with the crowd to be able to transport your cash in a more discreet, efficient and secure manner.



We do not use armoured vehicles.

This is to draw less attention during the cash handling process. An armoured vehicle on your premises will only advertise the idea that you have money on site. This is why we prefer our couriers to drive unmarked and soft-skinned vehicles that are equipped with the latest monitoring and anti-theft security features necessary for money transport.



We are available to serve you any time and any day,

...including weekends and holidays. Our website's online chat service is available 24/7 to assist you with your cash security services inquiries. For your comments, suggestions, and other concerns, our customer service team is reachable anytime by calling 1300 SECURE. Using our website, you may cancel bookings, verify the IDs of our couriers, and download copies of our cash in transit security insurance policy online.

Our services are fast and flexible.

You can opt-in for a daily, weekly, fortnightly, or monthly cash collection. We do not require you to sign a binding contract so you can opt-out anytime. If you are unhappy with our service, you can always reach out to us. As a cash security specialist, we can come up with a custom solution that works best with your organization.



Having a cash security provider prevents internal..

...and external theft in the company. With your money being collected by a reliable cash courier, there would be no money left to steal inside your building. Also, you won't have to go outside the office to deposit the money with the possibility of getting robbed along the way. By entrusting the task to us, we can guarantee a fast, safe, and covert transport of your funds from your location to the bank.
By choosing SecureCash as your cash security service provider, you can now focus more on keeping your business on top. Your employees will be more productive and your customers would feel more secure in doing business with you. Having us do your banking rids you of all the worries involved in the transport of your money, giving you more time to look after your business and your employees.


Contact Us Today
Get your free no-obligation quotes or can reach us at 1300 732 873. Our friendly staff are ready to discuss your Australia cash security service needs and let you know how we can help. Call now!

Secure
Cash
Don't take the risk.
Let us do your banking!
SecureCash provides cash security services 24 hours a day, 7 days a week—anywhere in Australia. Our services include Cash In Transit services, Cash Collection services, Cash Pickup services, Cash Logistic services, Cash Delivery services, Cash Courier services. We have branches in Adelaide, Brisbane, Canberra, Melbourne, Perth, and Sydney plus a network of licensed contractors to cover the rest of the country. Contact us today for more information about how we can help your business in Australia.

SecureCash guarantees the safest handling of your business takings. In case we miss your bank's cut-off time, your money will be kept in a protected and undisclosed location until it's delivered to your bank the next business day.

Your daily takings' safety is our top priority. It is important to us that our services are delivered in a professional and timely manner, no matter what your business is—no matter where you are located.