Cash In Transit Services,
Adelaide AU
---
Looking For Cash In Transit Services in Adelaide?
---
Cash In Transit is the process of collecting your business' daily takings, transporting these funds in a secure method and depositing it at the bank on your behalf. Find out more on how SecureCash can provide you with cash in transit solutions that are straightforward and cost-efficient in Adelaide without having to leave the office.
Our Cash in Transit Services in Adelaide
SecureCash is the largest cash in transit provider in Adelaide. Through the years, we have helped many companies in managing and transporting their business takings.

We have serviced retail stores, pet shops, hotels, restaurants, private schools and universities. We also provide cash in transit services to veterinary centres, government facilities, healthcare clinics, financial firms, medical and dental offices, and other organizations here in Adelaide. No matter the size of your business, we promise to offer only the best cash security solutions for you.

SecureCash is Australia's most reliable cash in transit company that provides top-class cash management, security, and logistics solutions. We have branches in Adelaide, Brisbane, Canberra, Melbourne, Perth, Darwin, and Sydney.

From Gawler to Aldinga, Mt Barker to Glenelg, and to all the neighbouring suburbs in Adelaide, we got you covered at a very affordable price.

Our Adelaide cash in transit team is mostly from Adelaide. To organize an effective team, we hire people who have a great knowledge of the capital city's history, culture, and industry. This way, our operations can run smoothly as they mostly know the streets and company locations like the back of their hand.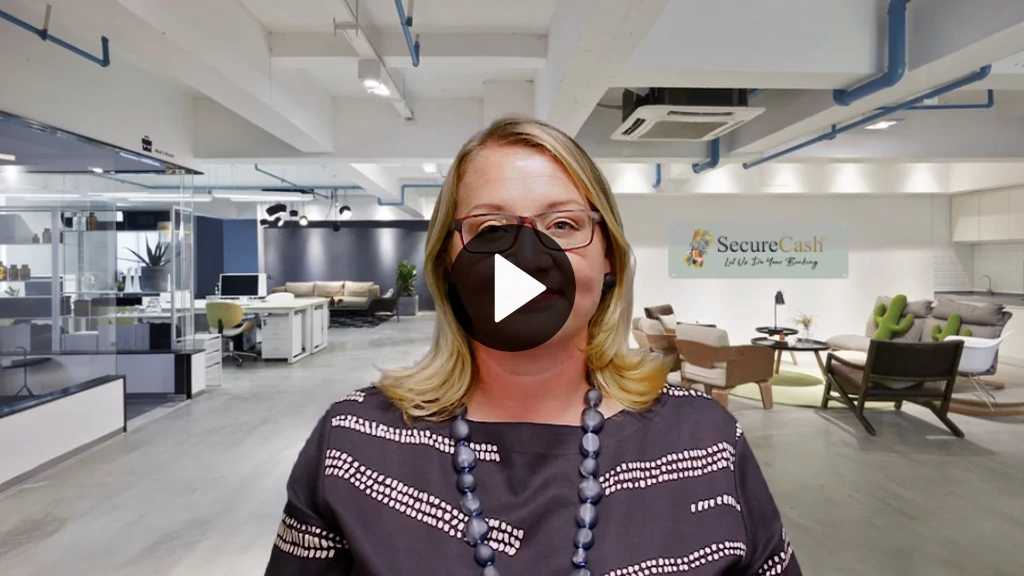 A couple words from our General Manager Bethaney Bacchus
Why Should You Hire an Adelaide Cash In Transit Provider for Your Business?
---
What Is Cash In Transit Adelaide?
Cash in transit is the physical collection and transport of cash. This is an essential service for all businesses, to reduce the risk of any incident happening to themselves or their employees. Any reliable Adelaide cash in transit provider will also hold an insurance policy for if an incident was to occur, providing peace of mind.
Why Choose SecureCash?
Our couriers are well-vetted and are professionally trained in covert cash handling procedures. During cash in transit operations, we deploy plainclothes officers who drive non-armoured vehicles to stay undercover, even customers and employees wouldn't notice that money is being moved around.

Established in 1992, SecureCash is an Australian owned and operated company that is fully licensed to provide affordable cash in transit solutions in Adelaide. It currently holds a security license with the South Australia Consumer and Business Affairs, you can request our license at any time.

With SecureCash, you won't have to worry about your money while in transit. All cash transport operations are covered by our nationwide CIT insurance policy, which guarantees that your money is safe and insured from the time it left your building until it reaches the bank.

Getting our services is fast and easy. If you're not sure about what service to get, talk to us by calling 1300 SECURE.

If you would like to know how much our cash in transit services in Adelaide costs, feel free to get a quote and we'll get back to you right away.
Secure
Cash
Don't take the risk.
Let us do your banking!
SecureCash provides cash in transit services in Adelaide—24 hours a day, seven days a week. We have branches in Perth AU, Melbourne AU, Sydney AU, Brisbane AU, Newcastle AU, Cairns AU, Canberra AU, Warrawong AU, Toowoomba AU, Maitland AU, Central Coast AU, and Adelaide Banking Courier, plus a network of licensed contractors to cover the rest of the country. Contact us today for more information about how we can help your business in Australia.

SecureCash guarantees the safest handling of your business takings. In case we miss your bank's cut-off time, your money will be kept in a protected and undisclosed location until it's delivered to the bank the next business day.

Your daily takings' safety is our top priority. It is important to us that our services are delivered in a professional and timely manner, no matter what your business is—no matter where you are located.