Cash In Transit Services,
Toowoomba AU
---
Looking For Cash In Transit Services in Toowoomba?
---
Cash in Transit provides clients with a swift and secure transport solution for their daily takings. SecureCash has well-vetted professional couriers who can pick up the money from your business premises and bring it to the bank. Find out why we are the largest cash-in-transit provider in Toowoomba. Get a quote now!
Our Cash in Transit Service in Toowoomba
Though cash security is essential in every company, there are still those who realize the value of cash in transit services only when something goes wrong, or after experiencing a downturn in their operations. Avoid the risk by choosing a trusted cash in transit service provider in Toowoomba.

SecureCash offers only the best when it comes to securing your funds. We provide services like cash collection and cash delivery.

Cash Collection is the process of collecting your funds and safely transporting it to the bank on your behalf.

Cash Delivery allows us to deliver money (cash and coins) to your business location. We can liaise with your bank, withdraw your funds, sort it into your needed denominations, and bring it straight to you.
Outsource Your Banking
Hiring a cash in transit service specialist for your business in Toowoomba is a great security investment as this protects your business, employees, and cash assets. Without a cash security service, you can be vulnerable to threats like robbery, theft; and your office can be a soft target for property crimes.

Let a professional handle your banking needs. Partner with SecureCash, a cash-in-transit services firm that is trusted and well-experienced in the field of cash security.

SecureCash specializes in getting your money right where it should be. Whether it's for a banking deposit or for delivery to your store, we make sure that you get a fast and quality service, regardless of the size of your business.

We can make daily, weekly, fortnightly, and monthly pickups and deliveries, depending on your request.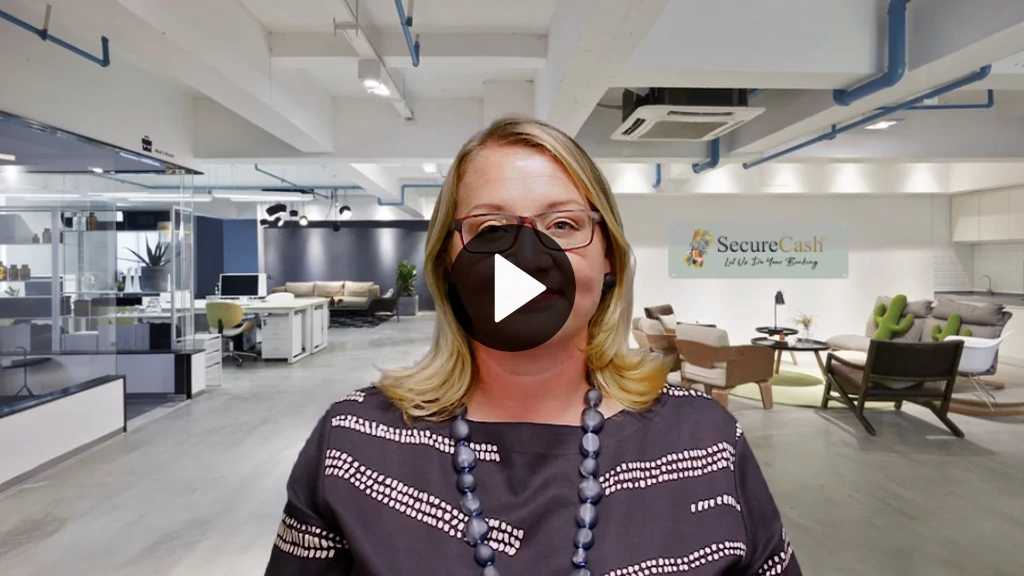 A couple words from our General Manager Bethaney Bacchus
Why Should You Hire a Toowoomba Cash In Transit Provider for Your Business?
---
Reduce Possible Risks
Choosing SecureCash to manage your banking is an excellent way of reducing all the potential risk in cash transport. By letting us do your banking, you won't have to go to the bank yourself or ask a staff member to process the deposit.

Once an agreement has been put in place, we assure you a professional and timely service. We respect your busy schedules, so we do our best to perform our tasks well.

SecureCash provides covert and low-key cash in transit services. We deploy unarmed plain clothed couriers who drive unarmoured vehicles. Our discreet services allow our couriers to operate smoothly and effectively. Our methods have been commended by our long-time clients, making us the number one CIT provider in Toowoomba.
Call Us Today
If you need someone to take care of your business takings, call us at 1300 732 873. Our Toowoomba cash in transit team is standing by and ready to discuss how we can help secure your business.
Secure
Cash
Don't take the risk.
Let us do your banking!
SecureCash provides cash in transit services in Toowoomba — 24 hours a day, seven days a week. We have branches in Adelaide AU, Perth AU, Melbourne AU, Sydney AU, Brisbane AU, Newcastle AU, Canberra AU, Cairns AU, Warrawong AU, Maitland AU, and Central Coast AU, plus a network of licensed contractors to cover the rest of the country. Contact us today for more information about how we can help your business in Australia.

SecureCash guarantees the safest handling of your business takings. In case we miss your bank's cut-off time, your money will be kept in a protected and undisclosed location until it's delivered to your bank the next business day.

Your daily takings' safety is our top priority. It is important to us that our services are delivered in a professional and timely manner, no matter what your business is—no matter where you are located.