Cash Runs Service
---
Looking For Cash Runs Service?
---
SecureCash provides cash runs for companies who need their money transported to the bank or change delivered to them. We deploy plain-clothed cash couriers who drive soft skin vehicles to avoid detection. Our operations are covert to avoid distractions in the workplace and to not draw attention to the public. Find out how cash runs benefit your business. Call us today!
Our Cash Runs Service
Letting your staff do the cash runs attracts potential dangers. We can eliminate these risks for you. Our cash run service makes the transition between your office and the bank faster and much safer.
SecureCash is a cash-in-transit company that provides cash runs for businesses in Australia. We offer customized solutions in cash management, security, and transport. Our cash run services include Cash Collection, Cash Delivery, and Cash Counting.
Cash Collection
Cash collection is one of our highly-requested services. We can pick up your daily takings, secure your money, and bring it to the bank safely. With SecureCash, you do not have to personally go to the bank anymore or ask one of your staff to deposit the funds for you.
Cash Delivery
If you need someone who can replenish the tills for your daily trading, we have got your back. We can collect your money from the bank and bring it to you. You may request for specific denominations and we'd gladly sort them out before we deliver them to you.
Cash Counting
If you are one of the business owners who operate coin-operated machines (vending machines, laundromat, arcade cabinets, parking meters, tickets, etc.), we can help you count your takings. This relieves you from the stressful task of sorting out cash and coins. We have state-of-the-art cash counting machines that provide accurate data. Once the amount is verified, we can deliver it to you or wire it to your bank account, it's up to you.
To request for any of these cash run services, start by getting a quote through our website or call 1300 SECURE. We are reachable 24 hours a day, seven days a week, even on holidays.
Covert Cash Run Solutions
SecureCash focuses on covert cash-in-transit solutions. Our cash couriers wear plain clothes instead of security uniforms and they transport your money in unarmoured vehicles. This allows them to easily move around without attracting too much attention.
Though we use everyday-looking vehicles, they are fitted with advanced security features that aid us in our job. Transporting your funds in an unarmored vehicle helps us finish our tasks quickly without being followed by criminals. We also observe shifting cash pickup and delivery schedules to keep our routines untraceable.
Our employees are well-vetted and rigorously trained so we can guarantee that your money is in good hands. You may verify the identity of our cash couriers through the online services page on our website.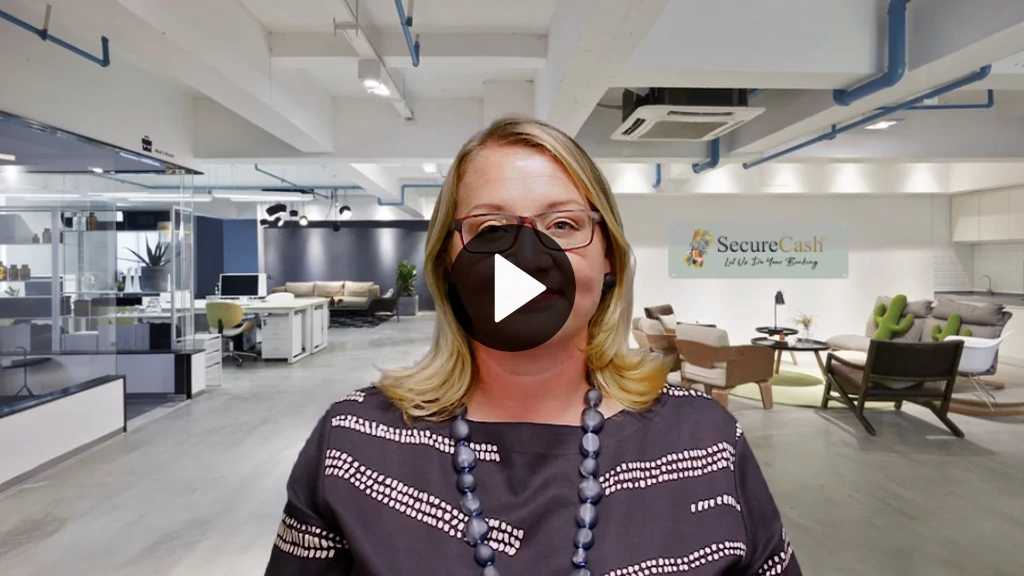 A couple words from our General Manager Bethaney Bacchus
How You Can Benefit From Our Services
---
No. 1 Cash-in-transit Service Provider in Australia
A professional cash run service is the most practical way of keeping your business on its balance. We can offer you an unswerving peace of mind that is too valuable to put a price on.
SecureCash aims to provide outstanding and highly competitive cash-in-transit services. Established in 1992, our years of experience made us experts in this field of work. We continuously upgrade and fine-tune our processes to meet the changing and growing needs of our clients.
Straightforward and Flexible Service
With SecureCash, you no longer need to do emergency cash runs to the bank as we can deliver and re-stock your tills or floats. We can have your cash delivery arranged in conjunction with your cash collection service to save the wait time.
SecureCash doesn't require you to sign any binding contracts so you may use our services anytime. If you are unsure, you may try our services for a week to see what sets us apart from other providers who are offering the same services. If you're not happy with our service, please let us know so we can work out better options for you.
With SecureCash, you can finally channel your focus to the other important aspects of your business operations.
CALL US TODAY
If you need someone who can provide reliable cash runs, call SecureCash at 1300 732 873. Our operators are standing by and ready to discuss how we can help secure your business in Australia.
Secure
Cash
Let us do your banking
Don't take the risk.
SecureCash is available 24 hours a day, serving cash runs service - anywhere in Australia. We provide other services such as Cash In Transit services, Cash Pickup services, Cash Logistic services, Cash Security services, Banking Collection services, Cash Delivery services, and Cash Courier services, plus a network of licensed contractors to cover the rest of the country. Contact us today for more information about how we can help your business in Australia.

SecureCash guarantees the safest handling of your business takings. In case we miss your bank's cut-off time, your money will be kept in a protected and undisclosed location until it's delivered to your bank the next business day.

Your daily takings' safety is our top priority. It is important to us that our services are delivered in a professional and timely manner, no matter what your business is—no matter where you are located.